A woman working with top Democratic lawyer Marc Elias engaged in voter intimidation in Pennsylvania, Republican congressional candidate Sean Parnell's campaign has alleged.
Emily Resko, an intern for Parnell's opponent Rep. Conor Lamb (D., Pa.), posted pictures of voter rolls on Snapchat with the caption "im about to see how alllllll you fuckers vote," according to images obtained by the Washington Free Beacon.
After tens of thousands of voters received the wrong ballots, Parnell asked courts to mandate poll watchers at satellite voting locations in the district. Resko said the Lamb campaign picked her to assist Elias, a leading Democratic campaign lawyer, in opposing Parnell's request.
In reaction to the news, Resko wrote on Snapchat: "[S]o how about because of my internship, me and this other boy were picked tonight to LITERALLY BE ASSISTANTS UNDER THE LAWYER ON THIS POTENTIAL CASE. I'M SO FUCKING EXCITED fuck parnell and his voter supression." That message contained screenshots of tweets from Lamb and Elias. "[I] literally get to gather data for this case this is amazing im excited ok bye sorry."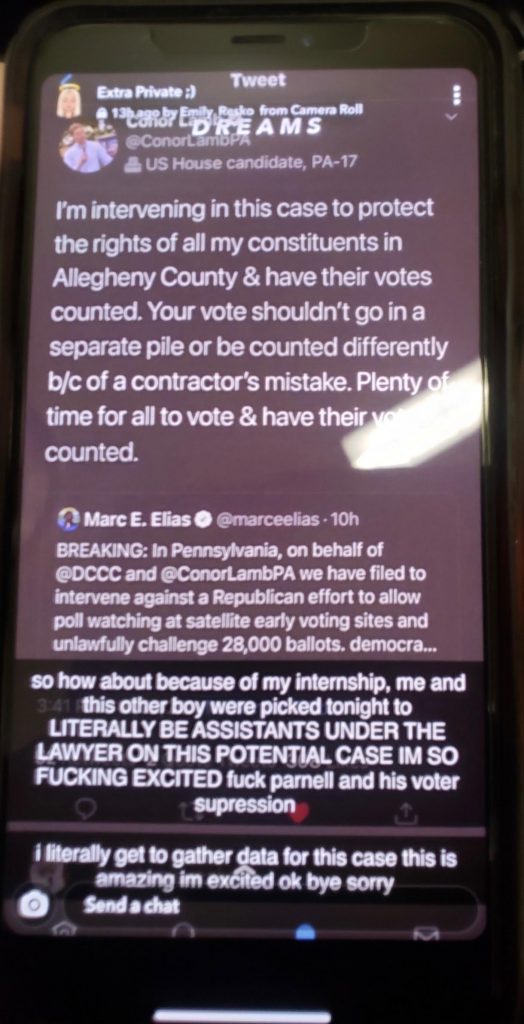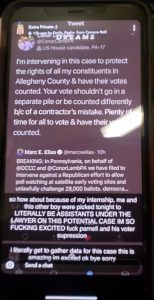 Resko also said she had access to voter files, which "give me full access to the voting history of ALL residents in the 17th congressional district." Later…
Continue reading…
https://freebeacon.com/2020-election/dem-superlawyers-assistant-engaged-in-possible-voter-intimidation/