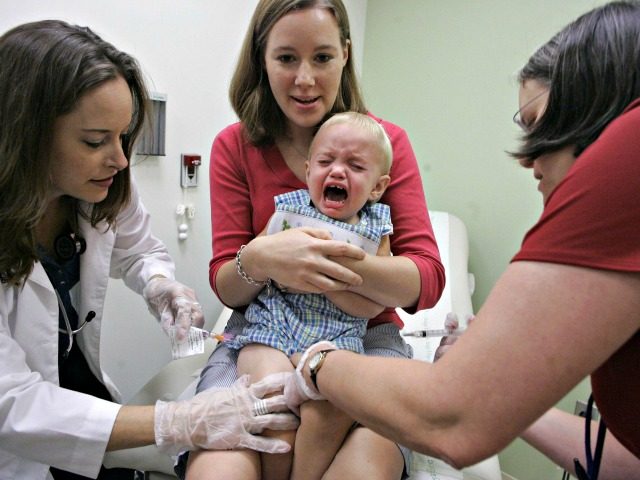 JOSHUA CAPLAN22 May 20203185:19
Tens of millions of children under 12 months are potentially at risk for diseases such as diphtheria and polio as the Chinese coronavirus pandemic interrupts routine vaccinations, according to data published by global public health experts on Friday.
STAT News reports:
Vaccine campaigns have been disrupted in at least 68 countries, according to data released by the World Health Organization, UNICEF, the Sabin Vaccine Institute, and Gavi, the Vaccine Alliance. The interruptions could affect 80 million children under 1 year old in those countries.

The agencies said that the disruptions are occurring at a scale unseen since widespread immunization campaigns began in the 1970s. The countries reported at least moderate interruptions to the programs, with some countries suspending their programs completely. The organizations said 27 countries have postponed campaigns of vaccinations that protect against measles, while more than a dozen have paused some polio vaccination programs.
Dr. Tedros Adhanom Ghebreyesus, head of the World Health Organization (WHO), said in a statement:
Immunization is one of the most powerful and fundamental disease prevention tools in the history of public health. Disruption to immunization programs from the Covid-19 pandemic threatens to unwind decades of progress against vaccine-preventable diseases like measles.
Public health experts are urging immunization programs remain operational to both ensure children are protected against current illnesses and are ready to distribute coronavirus vaccines if they become readily available.
Gavi CEO Seth Berkley said in a statement:
More children in more countries are now protected against more vaccine-preventable diseases than at any point in history," Gavi CEO Seth Berkley said in a statement. Due to Covid-19, this immense progress is now under threat, risking the resurgence of diseases like measles and polio. Not only will maintaining immunization programs prevent more outbreaks, it will also ensure we have the infrastructure we need to roll out an eventual Covid-19 vaccine on a global scale.
Due to the pandemic, polio and measles vaccination campaigns have been heavily impacted, with the former having been halted in 27 countries. Conversely, polio campaigns have been halted in 38 nations.
On Wednesday, New York City Mayor Bill de Blasio (D) warned that administered vaccines have plummeted 63 percent for children in the Big Apple in the last year.
Two new studies offer hope for an effective coronavirus vaccine — and for the notion that prior infection also confers immunity.
Continue reading… https://www.breitbart.com/health/2020/05/22/report-over-80-million-children-at-risk-as-coronavirus-disrupts-vaccination-schedules/