Former Director of National Intelligence James Clapper admitted to the House Intelligence Committee in July 2017 that he was not aware of any direct evidence of collusion between Russia and the Trump campaign.
In a closed-door session on July 17, 2017, Clapper told the committee: "I never saw any direct empirical evidence that the Trump campaign or someone in it was plotting/conspiring with the Russians to meddle with the election."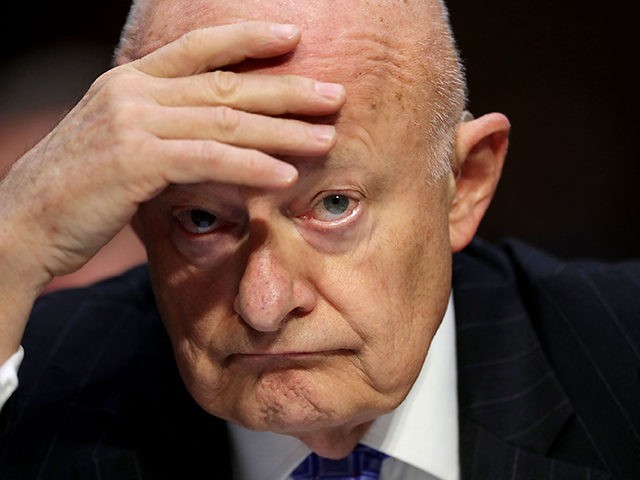 Those comments reflect what Clapper told NBC's Chuck Todd on Meet the Press on March 5, 2017, when he said that the Intelligence Community assessment of Russian interference in the 2016 election did not include evidence of collusion with the Trump campaign.
But Clapper added that it "could have unfolded or become available in the time since I left the government."
Clapper told the House Intelligence Committee that "anecdotal" evidence had emerged, such as people linked to the campaign talking to "the Russian ambassador on somebody that's of Russian origin."
Yet later in his testimony, he added that "we didn't have any evidence of collusion certainly that met the evidentiary threshold that would make its way into the Intelligence Community assessment."
Rep. Adam Schiff (D-CA) — then the Ranking Member of the committee — attempted to soften the admission, asking Clapper: "So if there was evidence of collusion, it would not necessarily have been brought to your attention?" He also cited the (now-discredited) Steele dossier, asking whether it had been "corroborated at least in part" — to which Clapper replied, "It would appear so."
Clapper also said that he believed evidence of collusion would eventually emerge.
On July 11 — six days before his testimony — Clapper had reacted to news of a Trump Tower meeting between Trump campaign officials and a team led by a Russian attorney promising information on Hillary Clinton by telling the Cipher Brief: "I'll leave it to the special counsel to determine whether the legal threshold of collusion was breached, but from this layman's point of view, it certainly appears that way to me."
He was asked about that remark at the House Intelligence Committee, and explained:
I can't make a judgment about what the legal threshold, legal definition of — or if there is one, collusion here. I can't judge that. It just looks kind of funny to me, you know, walks like a duck, quacks like a duck, it's probably collusion. But I'm just a layman. And I'm out of the govennment, I'm a private citizen. I don't have access to, thank God, the classified infonmation anymore.
Despite not having any direct evidence of collusion, Clapper was a major figure in helping the media and the opposition push the "Russia collusion" hypothesis.
In December 2017, he told CNN that Trump was a Russia…
Continue reading… https://www.breitbart.com/politics/2020/05/07/transcript-james-clapper-admitted-no-direct-evidence-of-russia-collusion/