By: Brian Evans
After two years of the Democrats and Fabian economists, who believe in a Socialist style economy rather than free-market economics, predicting an inevitable recession and impending economic depression, it now appears that they were dead wrong! In fact, some of the left-wing economists have had to eat their own words about the Trump economy, and admit that the trade war with China will not have a negative impact on the American consumer like they once warned the American people were allegedly inevitable!
As for the American workers, the lowest wage earners in America have now seen the largest wage hikes under President Trump! Breitbart News reported…
The bottom 25 percent of American wage earners secured the largest wage hikes year-to-year compared to all others for November, newly released data reveals, thanks to President Trump's tightening of the United States labor market.

Data from the Federal Reserve Bank of Atlanta shows that for the lowest wage earners, Trump's "Buy American, Hire American" economy has delivered the quickest rate of wage hikes in more than a decade.

In November, the bottom 25 percent of wage earners saw their wages rise 4.5 percent compared to November 2018. These bottom-tier workers, those earning less than all other Americans, have secured a labor market that now resembles the labor market of top-tier workers — a result of less low-skilled foreign competition against Americans through increased interior immigration enforcement.

"A strong labor market makes the bargaining power of lower-paid workers more like the labor market higher-wage workers experience during good times and bad," Indeed.com economist Nick Bunker told the Wall Street Journal.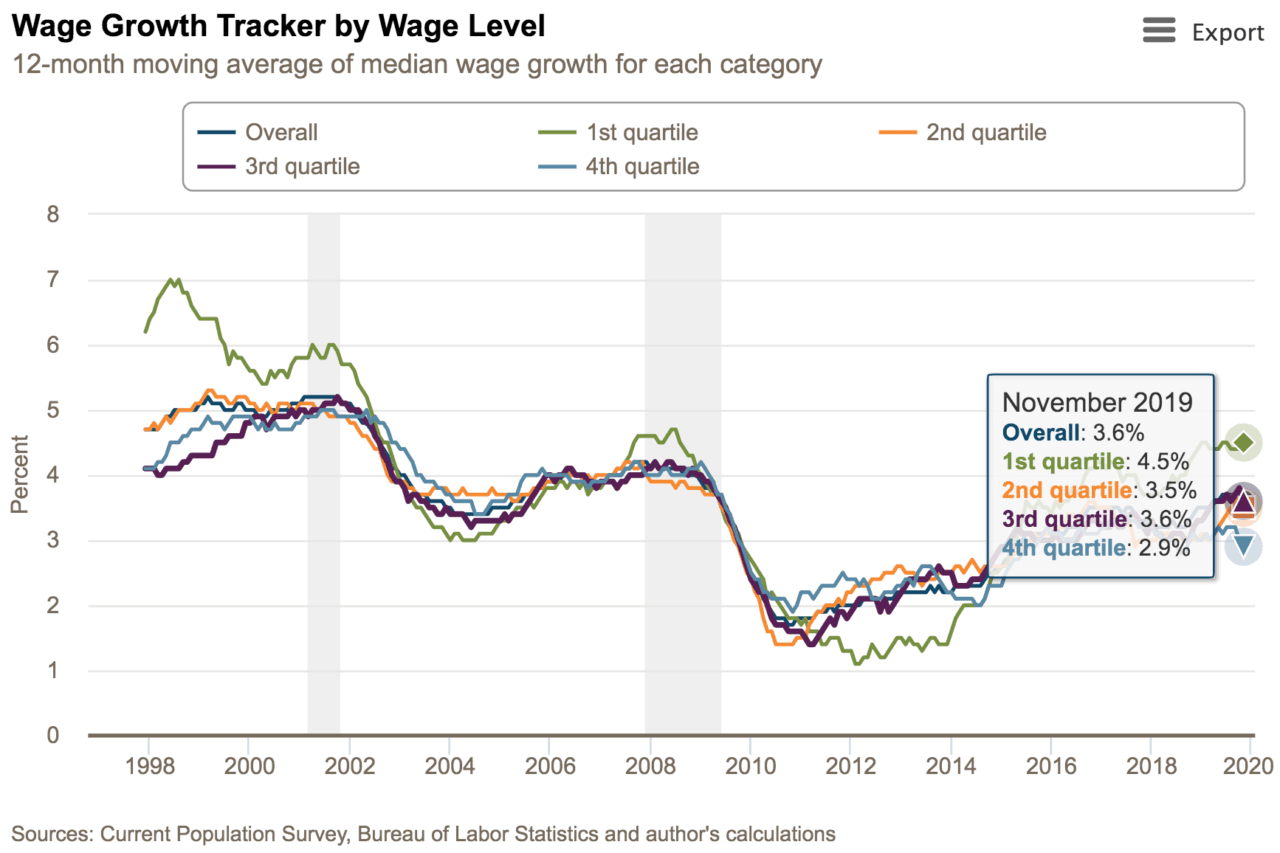 Meanwhile, as Democrats try to make it sound as if President trump's policies have benefited the richest in America, as well as corporate leaders, the facts show quite the opposite, while Democrat policies crushed the American workers while enriching the wealthiest in America! Therefore, after several years of left-wing economists claiming that Trump would send America's economy into the outhouse, those same economists are finally admitting that President Trump's tariffs might not squeeze the American consumers as they warned, but instead, make America an economic powerhouse, as it puts Americans and their pocketbooks first!
Now, as a result of the President's policies clamping down on Chinese intellectual property theft, forcing nations to stop taking advantage of American manufacturers and workers, and stop tariffing US goods, while expecting no tariffs on their products! Combine that with United States tax cuts, which benefited the American workers by putting more money in their pockets, and the outcome is MAKING AMERICA GREAT AGAIN for the American workers and taxpayers! In fact, this past week, new evidence emerged that shows that a massive 6.1 million American workers have dropped off the food stamp rolls since President Trump took office in 2017!
Breitbart News reported…
Approximately 6.1 million individuals dropped off the food stamp rolls since President Donald Trump's first full month in office in February 2017, according to the latest data from the U.S. Department of Agriculture (USDA).

The USDA data showed that 6,074,074 individuals discontinued their participation in the Supplemental Nutrition Assistance Program (SNAP) between February 2017— when the president completed his first full month in office— and November 2019.

Household participation in SNAP declined as well, with 2,489,315 households discontinuing SNAP.

There are currently 36,223,717 individuals and 18,448,588 households that are participating in SNAP.

When Trump took office, 42,297,791 individuals and 20,937,903 households were enrolled in SNAP.
President Trump has promoted helping the poor to become self-sufficient, and move them off of welfare through implementing work requirements! Meanwhile, the Administration has been implementing data-mining practices that assist the USDA in identifying food stamp fraud, which has been tremendously successful!
Breitbart added that…
According to a report from the Government Accountability Office (GAO), computer algorithms went through SNAP purchase data in seven states and matched it up with retailer and eligibility data to see if there was fraud.

In Mississippi, the state reported $2 million in SNAP overpayments since the state started incorporating data-mining into its fraud detection efforts.

But the study was limited, as all seven states said high costs, data limitations, and organizational support affected their ability to use more advanced artificial intelligence-gathering techniques to ferret out fraud.

Other states, however, have done similar things with analytics for different welfare programs at the state level. Utah became one of the first states to modernize its unemployment insurance analytics system in 2006 after spending $14 million to overhaul it. In 2015, the state had one of the lowest fraud rates in the country at 1.3 percent.
Although the targeting and penalizing of those who are taking advantage of the system has been effective in reducing food stamps, the economy has been the primary motivating force for reducing the food stamp rolls, and the Trump economy has been booming, which has led to a huge reduction in food stamps usage.