By: Brian Evans
On Tuesday, Lt. Col Alexander Vindman gave testimony again for the second time to the Democrats House impeachment hearings, after already coming under intense heat for his testimony last week, which has conflicted with other accounts and demonstrated to be hearsay from one to another to another! Now, in his testimony on Tuesday, Vindman testified that he was upset with President Trump because the President was implementing his own Ukrainian policies, which conflicted with what Vindman called his own "cohesive, coherent" Ukrainian policies! Apparently, Vindman believes that he was elected President of the United States, instead of Donald Trump, as it is the elected leader of the United States who is tasked with forming foreign policy, not unelected bureaucrats like Alexander Vindman!
Regardless, Vindman told the Democrat Party Counsel Goldman that HE HIMSELF was responsible for creating a "cohesive, coherent" Ukrainian policy…

Already, Senator Ron Johnson (R-WI) had exposed how Vindman is a part of the Deep State that a number of Democrats and even the Mainstream Media now admit exists, to counter the President's policies, even though President Trump was elected by the American people, to implement those policies! In fact, last year, Senator Johnson pointed out on Fox News how there was a sleeper cell within the FBI, but now it is showing that it runs much deeper, and across intelligence agencies, like the CIA!
In the interview, Senator Johnson pointed to various sources that indicated that there was…
"a number of high-level FBI officials holding offsite meetings" that discussed how to bring down President Trump.
When he was pressed on the matter, he said that it involved more than just Peter Strzok and Lisa Page, but others who are high up in the intelligence community.
Then on Monday, Senator Johnson released a letter to the Republican House leaders, concerning Lt. Col. Alexander Vindman, who as the Gateway Pundit reported Johnson said Vindman was behind the leaks and was going 'outside his chain of command,' which is a violation of intelligence protocol!
To make matters worse for Vindman, he violated the chain of command and went behind the Commander in Chief's foreign policy by following behind President Trump's discussions with Ukrainian President Zelinsky, and Vindman told them to ignore the President's policies, and follow his own Deep State policies, which many consider treasonous in the ranks of the military code!
At that point, Vindman should have decided or been advised to keep his mouth shut, for he then went on to admit even more treasonous actions, as he admitted to sharing classified information that was for his eyes only, with others outside the classified chain of command! At this point, Vindman refuses to concede who he shared the information with, and the Democrats are shutting down any questions that Republicans have for Vindman, about the topic, which shows that this coup and treasonous act may go all the way up to Schiff and his radical cohorts as well!
Already, it was discovered that the National Security Council (NSC) officials had tried to remove Vindman for likely leaking classified information, but the Obama appointed Deep State holdover, who served as head of Human Resources Letitia Lewis blocked his removal!
Via: Fox News' Watters World
Finally, Vindman has been caught in yet another lie, as his own testimony contradicts his testimony last week, as to his knowledge about the so-called whistleblower, as Nunes exposed how Vindman was holding information back from the committee!
For example, previously, Vindman testified behind closed doors that he has no idea who the whistleblower is…
"I want the committee to know I am not the whistleblower who brought this issue to the CIA and the committee's attention. I do not know who the whistleblower is, and I would not feel comfortable to speculate as to the identity of the whistleblower."
Official Testimony Below…
The Gateway Pundit reported how…
Nunes asked Vindman about the officials he spoke with and leaked contents of President Trump's phone call with President Zelensky in Ukraine.

Vindman told the committee his contact was in the intelligence committee… widely believed to be Eric Ciaramella in the CIA.

Schiff jumped in as Nunes got Vindman close to identifying the whistleblower's agency.

Schiff said he does not know the whistleblower in a previous hearing despite his staff meeting and plotting with the CIA whistleblower.

Vindman got testy and snapped at Rep. Nunes.
Via: Fox News
Therefore, even though everyone already knows who the so-called 'whistleblower is…
NOBODY IS SUPPOSED TO KNOW HIS NAME, OR EVEN HEAR HIM TESTIFY!
Then, the now well documented liar Rep. Adam Schiff (D-CA), who is serving as the chairman, threw out cover to protect the whistleblower, and stop Vindman from answering the questions about who was illegally leaking information to non-authorized agents, LIKELY VINDMAN HIMSELF! In fact, reports indicate that Vindman is likely the one who originally started the leak, which led to the whistleblower, which led to the impeachment hearings, which is now being probed once again, just like the Russia collusion allegations, a political hit job!
Even this past week, Chairman of the Senate Committee on Homeland Security and Governmental Affairs Ron Johnson (R-WI) lambasted Lt. Col Vindman in an 11-page letter written letter to ranking member of the House Intel Committee Devin Nunes and Rep. Jim Jordan, accusing Vindman of illegally leaking contents of Trump's phone call with Zelensky. In addition, numerous sources on the Hill are beginning to believe that Lt. Col Alexander Vindman was also the source of a leak to Politico in August, which detailed an anonymous lead about the alleged suspension of US aid to Ukraine, which now has been widely disproven as being not at all tied to any investigation request by the President against the Biden family's corruption charges.
Breitbart reported how Vindman actually admitted that he made up part of the so-called Trump phone call narrative, as they noted that…
Lt. Col. Alexander Vindman admitted he made up elements of President Donald Trump's call with Ukranian President Volodymyr Zelensky in an official summary.

Prior to the call, Vindman included a discussion about corruption in the talking points provided to the president but Trump did not use them in the call.
The summary Vindman wrote after the call read:
President Trump underscored the unwavering support of the United States for Ukraine's sovereignty and territorial integrity – within its internationally recognized borders – and expressed his commitment to work together with President-elect Zelenskyy and the Ukrainian people to implement reforms that strengthen democracy, increase prosperity, and root out corruption.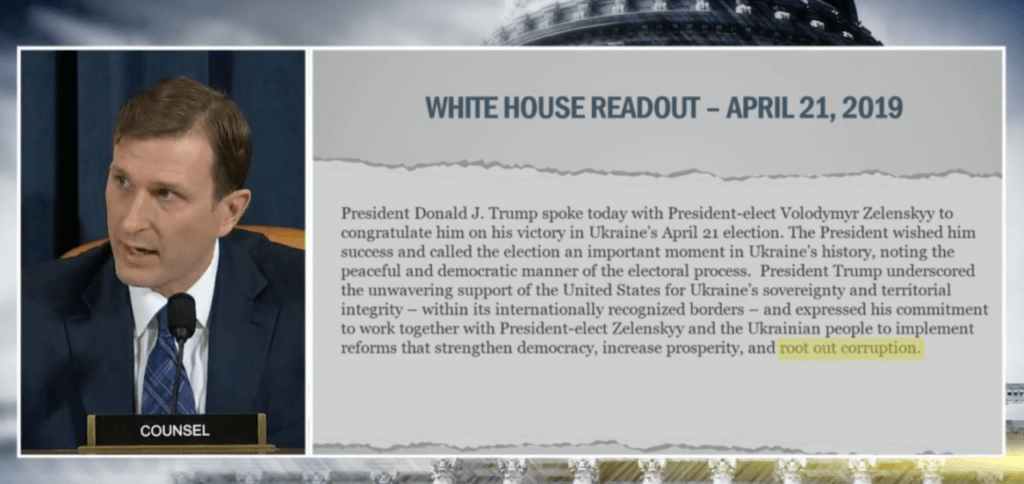 Then, they noted how Vindman was forced to clarify and change his testimony, as Vindman admitted that President Trump didn't bring up the topic about rooting out corruption during the phone call. Still, Vindman admitted that he indicated otherwise in the summary anyway!
Breitbart then reported how…
When asked by the Democrat counsel about whether the summary he wrote was false, Vindman hesitated.

"That's not entirely accurate, but I'm not sure I would describe it as false, it was consistent with U.S. policy," Vindman said.

Vindman said he included the rhetoric about corruption as a "messaging platform" to describe U.S. policy toward Ukraine, even though it was not discussed on the call.
Ultimately, Vindman has a lot to answer for, and the Democrats are doing everything in their power to block Republicans from being able to ask the serious questions about who is behind this coup, what are the origins of the coup, or any details about it! Regardless, the truth will be exposed, as they may be able to run, but they cannot hide forever, even if they want to!