By: Brian Evans
In the wake of July Fourth's 'Salute to America', Representative Ted Lieu (D-CA) stated on Saturday's episode of MSNBC's "AM Joy," that the Federal Election Commission should "look into" President Trump's July 4th event.
Via: MSNBC's "AM Joy" (At 5:00)
Lieu stated…
"One of the big problems with Trump's July 4th event is that it was a campaign event paid for by the American taxpayer. Not only did he divert millions of dollars to this event, he also had the Republican National Committee give out passes, VIP passes to major donors. That was outrageous. That was really a violation of our ethics and he made a mockery of our Independence Day. Trump diverted $2.5 million of national park fees to pay for his party, and I've asked the Federal Election Commission to look into this. Because how can you have all of this taxpayer money do this event and then have the Republican National Committee be involved in such a major way, handing out VIP passes to their major donors?"
However, despite the fact that left-wing pundits and hacks like Lieu, as well as the Mainstream Media,  attacked the Fourth of July 'Salute to America' as partisan, and reminiscent of dictatorships parades, as always, President Trump proved that it was none of the above, as he exuded true leadership, in a time when too many Americans have forgotten the true meaning of the 4th of July!
Fox News, who happened to be the only major Mainstream Media network to carry the event, as the other networks said they refused to carry the parade or dedication speech to the men and women in uniform! Fox News reported…
Trump defies ominous predictions with nonpartisan July 4th salute to American spirit
Fox News reported…
President Trump struck a patriotic, nonpartisan and unifying note during his address at Fourth of July celebrations in Washington, D.C., as the massive crowd of attendees avoided clashes despite provocations from protesters.

The event defied the critics who said the celebration on Thursday would be a partisan political spectacle that would not even attract a significant crowd. CBS, ABC, NBC and MSNBC snubbed the celebration and didn't air it live, save for their online streaming platforms.

Yet a massive crowd gathered on the Lincoln Memorial despite the rain, with Trump later tweeting an aerial photo showing an audience that filled both sides of the memorial's Reflecting Pool and stretched to the Washington Monument.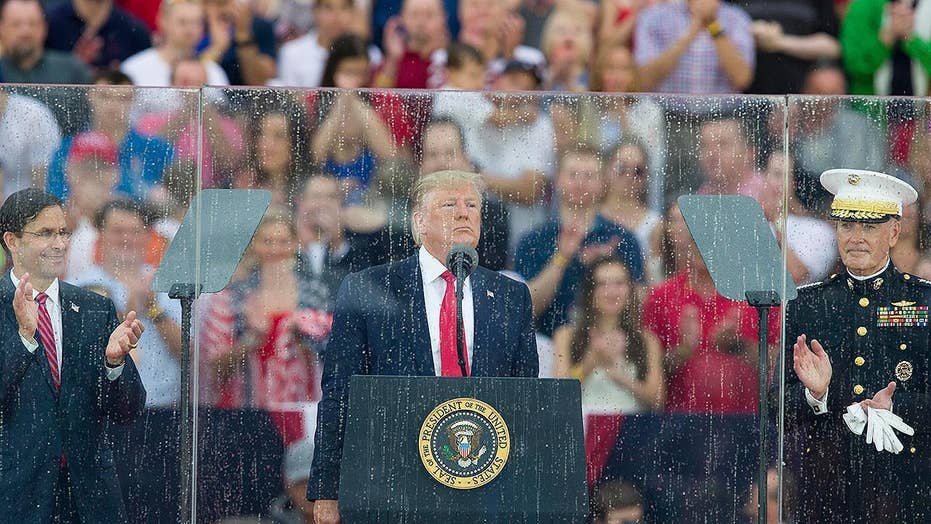 It was noted how the president used the speech to rally Americans to "stay true to our cause," as the President lauded praise upon countless American heroes, stretching from American Civil Rights leaders to Border Patrol officers, ICE Immigration officers, and military and war heroes alike! In fact, he celebrated American iconic heroes like Frederick Douglass, Harriet Tubman, Betsy Ross, and African Americans who campaigned to abolish slavery in the United States! President Trump said…
"Our nation is stronger today than it ever was before. It is its strongest now. We celebrate our history, our people, and the heroes who proudly defend our flag: the brave men and women of the United States military. For over 65 years, no enemy Air Force has managed to kill a single American soldier. Because the skies belong to the United States of America."
The President combined his celebration of American heroes and icons, by combining it with visual flyovers from each branch of the military, as well as a display of tanks and other military hardware during a parade, celebrating America!
Fox News added that…
the president rallying Americans before the Lincoln Memorial — drew complaints from critics that Trump was politicizing the holiday while flexing U.S. military might to an uncomfortable degree. The tenor of the address, however, still marked a contrast with the predictions made by 2020 Democratic presidential candidates who said that Trump would focus on his presidency rather than American ideals. Instead, he strictly stuck to history as he cited numerous tales of valor to weave a story of the American spirit.
Regardless of the tenor of the event, and its pure and innocent celebration of the United States of America, Democrats and the Mainstream Media continued to attack the event and the President! For example, former Vice President Joe Biden stated…
"I wonder what Donald Trump will say this evening, when he speaks to the nation at an event designed more to stroke his ego than celebrate American ideals."
Senator Kirsten Gillibrand attacked the event as…
"a waste of money, you know he's having a parade for himself, putting tanks out there for himself, and if he really cares about the men and women of our nation he would be investing in higher pay, better housing, better health care."
Representative Tulsi Gabbard said that the event…
"dishonors our troops, dishonors our service members and veterans. Because it's really all about Trump. It's not about our service members, it's not about their sacrifices it's not about my brothers and sisters who lost their lives in service to this country and that's the most unfortunate thing."
Meanwhile, other Democrats claimed that the President was politicizing the 4th of July, even as evidence proved the contrary! In fact, left-wing Revolutionary Communists used the event to light several American flags on fire, as well as attack Secret Service officers, and a United States Marine veteran! In fact, ENR reported last week that…
just before President Trump spoke at the salute to America's men and women in uniform, Communists gathered to light American flags on fire, in front of the White House!

As one of the pronounced Communists lit one of the flags on fire, and as it burst into flames, a man wearing a sleeveless "Make America Great Again" shirt and a MARPAT (Marine pattern) bucket hat charged the group and grabbed the burning flag with his bare hands. He whipped it away from the protesters and attempted to put out the fire. The Marine grabbed the flaming American flag from the Marxist protesters, in an attempt to save the symbol of freedom, which to many veterans have had to witness draped over the coffins of their fellow soldier's bodies!

At one point, someone asked the man if he was a veteran, and the man pointed to his United States Marine Corp tattoo and said…

"Yes, Semper Fi"

Meanwhile, the group of flag burning, America hating protesters, were all wearing 'Revolutionary Communist Party shirts that read "BA Speaks: Revolution, Nothing Less," all joined arms and chanted…

"America was never great."

Via: Daily Caller

Then, captured by Julio Rosas, multiple fights broke out between Patriotic Americans and the protesters who identified themselves as Communists, who hate America, everything America stands for, as they denounced our nation and all the freedoms, rights, and privileges that the Constitution of the United States affords to 'We the People'...

The Secret Service ended up making two arrests, and two agents were also injured by the 'Revolutionary Communist Party members!
Sadly, the Democrats and Mainstream Media remained silent about the true politicization occurring on the left, as well as reporting the innocent and purely patriotic festivities of the 'Salute to America' event!
President Trump called the event…
"one of the biggest celebrations in the history of our Country."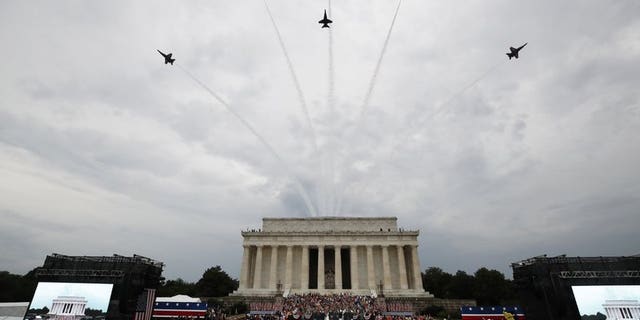 President Trump wanted to put together the 'Salute to America' event because he was concerned about there being so many Americans who have been misinformed about the truly wonderful history of the United States!
In fact, Campus reform revealed that fewer people than ever, especially College Students are 'Not Proud To Be American'!
Therefore, Campus Reform highlighted one of the most important aspects of WHY WE SHOULD BE CELEBRATING AMERICA AND OUR MEN AND WOMEN IN UNIFORM, because too many Americans have forgotten what it means to be American, as well as, what truly makes America so great!
Regardless, the 'Salute to America' Fourth of July celebration was resoundingly popular and well attended by the American people, and not only Trump supporters…but instead, BY AMERICANS FROM ALL WALKS OF LIFE AND BACKGROUNDS!
In the end, Representative Ted Lieu (D-CA) is yet another example of the hatred for President Trump, the American flag, and of the United States that they are supposed to be representing! Sadly, the only one that Lieu and his fellow Democrats seem to care about representing today is themselves!