By: Brian Evans
On Thursday, President Trump had met with some of the Conservative journalists and guests, who have been targeted by Google, Facebook, and other Tech giants for censorship! After the meeting with the President, the journalists moved from their meeting with the President to the Rose Garden, for the President's Press Conference concerning the 2020 Census Citizenship question!
Already, left-wing radical Mainstream Media pundits like CNN's Jim Acosta voiced their disdain that non-Mainstream Media outlets and Conservative guests, who were allowed to not only be there but to get front row seats to the press conference!
Then, after the President's announcement, out of the blue, as the various conservative journalists and guests stood up preparing to leave, CNN Political Analyst and Playboy White House Correspondent Brian Karem stood up, put his hand to his mouth and began yelling at the President's guests! In fact, he began yelling…
"a group of people that are eager for demonic possession," at the Conservative attendees!
It was at that moment that Dr. Sebastian Gorka walked near Karem, and responded to his insult, by stating…
"and your a journalist, right?"
Left-wing Yahoo News reported that Mr. Karem "invited him (Gorka) to go and talk outside," but numerous other reports indicated that Karem was insinuating that he was challenging Gorka to a fistfight outside!
Mr. Karem said…
"I didn't think the Rose Garden was the appropriate setting. But he (Gorka) took it to mean, as he later explained, that I wanted to be physical. My intention was never to provoke a physical confrontation in the Rose Garden."
Dr. Gorka told Yahoo News that he was responding to Mr. Karem aggression, as Gorka said that Karem asked him to…
"come outside" and "settle this."
At that point, reports indicate that Karem gestured with his middle finger at Gorka, and yelled…
"You're not a journalist! You're a punk!"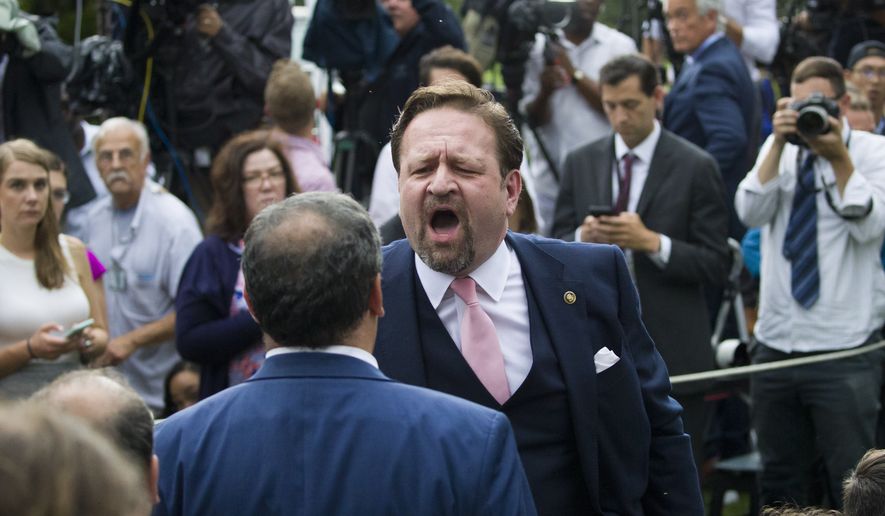 The Gateway Pundit responded to the incident by noting that…
Playboy White House reporter and CNN contributor Brian Karem crossed a line at the White House Thursday, going from reporter to partisan heckler and goon when he insulted, heckled and threatened guests of President Trump at a White House Rose Garden event and should therefore be banned from covering the White House and his hard pass pulled.
The Pundit went on to note that…
Gorka and the social media summit attendees were there as guests of President Trump. Reporters were there to cover the event. Karem's behavior should result in him being banned from the White House and for his hard pass to be permanently pulled. In the old days he would have been fired for his unprofessional conduct but he will likely receive a book deal.
Amazingly, but not surprisingly, the Mainstream Media went into full gear, editing video, propagandizing the event, to try and smear not only Dr. Gorka but the Conservative guests! In fact, left-wing journalist Andrew Feinberg cut off Karem's insults and threats towards Gorka, and just used a clip showing Gorka walking towards Karem and yelling at him! Then, Feinberg writes…
"Note: Brian was not, in fact, threatening him."
Then, Acosta posts an edited clip and claims White House reporters are verbally abused and adds…
"A good snapshot of how press is treated by WH"
The following is a clip from CSPAN, which shows the incident in its entirety, as Karem insults the crowd, and you can hear him call for Gorka to "come outside and settle this," as Gorka marches over and calls him a punk!
In the end, the Mainstream Media has resoundingly expressed their hatred and disdain for not only the American people and their opinions, but they absolutely hate those in journalism and social media, who dare to oppose their left-wing Socialist ideology!
In the end, Dr. Sebastian Gorka is right, as the Mainstream Media are no longer journalists, as they are left-wing propagandists, who push a Socialist agenda, and are out to destroy anyone who dares get in their way!