By: Brian Evans
This past weekend, Quillette editor Andy Ngo, who is a Gay Conservative journalist, was covering the Antifa Protests, as they walked the streets of Portland Oregan! Ngo had been on Fox News Channel's Tucker Carlson in December of last year, where he had warned about the "anti-American revolutionary movement," as he said AntiFa was willing and ready to use deadly violence against its opponents…
The following is a transcript of some of the interview…
TUCKER CARLSON: Andy, what is the matter with Portland?

ANDY NGO: I think Portland is an example of what happens when you have a city that is an ideological monoculture with no counterpoints. And so these ideas on the left become radicalized in their own echo chambers. The city is also very secular so their's an erosion of traditional sources of purpose and meaning.

For example, instead of religion, people are turning to political ideologies and they want to be heroes, but instead of dedicating their lives to service or joining the military, they are joining movements like Antifa and going out on the streets to fight because they think they are actually in a battle with fascists.

CARLSON: That's a deep and true analysis, I think. Portland is a beautiful city and there are normal and nice people who live there. What do they think? Not everyone in Portland agrees with Antifa. Do they have a voice?

NGO: I think the genius in Antifa is actually in their name because they've put themselves in a position where it's actually very hard for left-leaning politicians to criticize because it sounds like you're being against anti-fascists, which sounds like a noble thing to be, right?… For a long time, Portland residents were reluctant to be too critical of this movement. Portland has been victimized through various riots and scenes of violence, so I think more normal people are waking up and seeing that this movement is indiscriminate in who they target.

They target U.S. citizens trying to drive through, trying to pass through, or trying to run a business. And hopefully with what I'm doing, by trying to go to these protests as they happen to bring attention to it, more people will wake up and realize that we're not dealing with a noble, anti-fascist movement. We're actually dealing with a reactionary, anti0gvernment, anti-American revolutionary movement that is also willing to use violence.
Then, fast forward to this past weekend, and the journalist himself was assaulted by AntiFa, as they joined the left-wing idea of throwing milkshakes on Conservatives, only AntiFa took it a step further! They added quick-crete, quick drying cement to the mixture, making it a deadly weapon against their political foes!
The Portland police posted a warning on Twitter on Saturday evening stating that milkshakes" thrown during the violent AntiFa protests contained the quick-drying cement! The Police noted that the concoction…
"would cause chemical burns when it hit exposed skin!"
They added that…
"PPB advising crowd to get out of street and onto sidewalks. Police have been hit with eggs and milkshakes."
As a result of the attack, Andy Ngo was hospitalized with a severe brain bleed from the attack, according to his attorney Harmeet K Dhillon, bringing about condemnation from Republicans and U.S. Ambassador to Germany, Richard Grenell! 
Later Grenell said…
"This is unacceptable. I am outraged. This violence from intolerants must stop. Portland leaders must be held to account!"
Conservative Journalist Michelle Malkin set up a GoFund me account for Ngo, to help cover his medical expenses, as well as, his equipment, as he was also robbed during the attack.
In addition to the outrage against AnitFa, major questions arose, as it turns out that the Portland Police stood down during the attack against Ngo, and even refused to help him get to the hospital, as he requested their help! Reports indicate that the Police told him he would have to walk blocks, back through the AntiFa attackers, to get to the hospital! Then, only to find out that he had a critical brain bleed! However, now as more information has emerged, it appears that Portland's Mayor, Ted Wheeler, had given an order for the officers to stand down, causing the attack on Ngo to escalate! Then, after it was out of control, AntiFa members began attacking the Police with eggs and homemade shakes as well!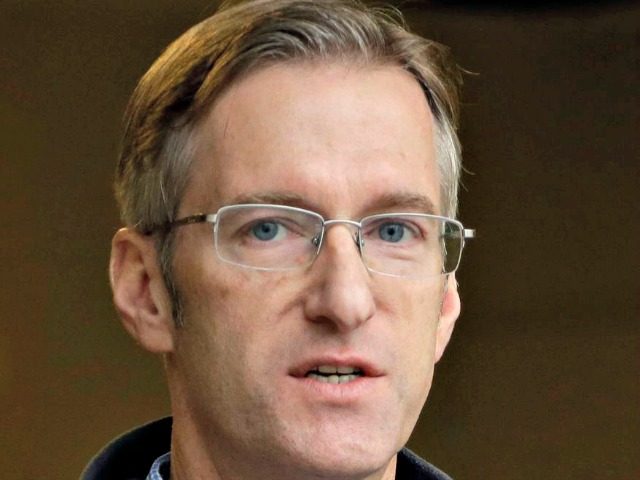 Ted Wheeler, Portland Mayor         AP Photo/Don Ryan
Portland's Mayor Ted Wheeler's has already come under fire, as he refused to intervene in the AntiFa attack on the local ICE Immigration Facility in Portland, leading to a lawsuit against the Police Department! Evidence showed even during that incident, it was Wheeler's 'hands-off' policy that led to the attack growing, and now the attack on Ngo, as well as countless other attacks on innocent civilians!
Wheeler also serves as the police commissioner refused to say anything, and reports from Portland Police indicate that he told them to stand down, and not interfere, as Ngo, shaken and bloodied, began live streaming the assault against him on his phone! Even on the streaming, you could hear Ngo ask the Police…
"Where the hell were all of you?"
Quickly, demands for the Mayor and Police Commissioner Wheeler's resignation followed…
The AntiFa groups included members from Rose City, and the Demcorat Socialists of America, which happens to be the organization that Alexandria Ocasio-Cortez is a member of! IMAGINE THAT!
Regardless, the Portland Mayor defended his 'hands off' approach, as he told the Washington Times that…
"This is the story of Goldilocks and the two bears. The porridge is either too hot or it's too cold. At any given moment in this city, the police are criticized for being heavy-handed and intervening too quickly, or they're being criticized for being standoffish and not intervening quickly enough."
In addition, the Portland Mayor attacked Fox News for questioning if Portland was allowing "Mob rule,", as the violent and hate-driven AntiFa has taken over the Portland streets! Wheeler responded by stating…
"I'm willing to take criticism all day long from Fox News, but I'm not willing to accept criticism from Fox News of the men and women of the Portland Police Bureau."
However, during the event, multiple reporters said that they could see AntiFa using pepper spray on political opponents, and throwing milkshakes and eggs on the Police as they shouted, "F*ck you pig!" In addition, according to KPTV, the AntiFa members threw trash cans, newspaper stands, and patio furniture into the streets!
Amazingly, the Police amongst all the violence, all the vandalism, and all the hate, ONLY THREE WERE ARRESTED, despite a large number of AntiFa members being involved in the violence!
In the meantime, the Mainstream Media continues to defend AntiFa, as CNN's Chris Cuomo defended the terrorist group, calling them a…
"Good Cause!"
Already, last year, according to a report from Breitbart News, CNN's Cuomo openly embraced political violence against the right with a fascist rant defending Antifa's brutality and bloodshed. Cuomo said…
"It's not about being right in the eyes of the law, but you also have to know what's right and wrong in a moral, in a good and evil sense. That's why people who show up to fight against bigots are not to be judged the same as the bigots, even if they do resort to the same kinds of petty violence!" Adding… "Fight."
In other words, stand with the Marxist left, or suffer the hate-derided racism and political attacks!
In fact, CNN's Cuomo even compared AntiFa members, who embrace hate, violence, and intolerance, to the brave soldiers who stormed the beaches at Normandy in WWII…
https://twitter.com/RealSaavedra/status/1123115265137340416
Meanwhile, Senator Ted Cruz and other Republicans immediately called for an investigation into the incident, as multiple reports emerged that Mayor Wheeler gave a stand down order to the Police! As a result, Mayor Wheeler denied the accusations, stating…
However, the Portland Police, state that he did, and the Portland Police Association President Daryl Turner told local KATU the mayor is preventing police officers from acting.
If it turns out to be true, Wheeler was already accused of ordering the Police to stand down, when Antifa terrorists were attacking the Portland ICE facility, according to a report from the Gateway Pundit!
IT IS TIME FOR OUR ELECTED LEADERSHIP TO TAKE ACTION, AND DEMAND ANSWERS TO ONE OF THE MOST DANGEROUS TERRORIST ORGANIZATIONS IN THE UNITED STATES OF AMERICA!
Unfortunately, it is an act that may not come, at least for Congressional Democrats, as some openly have supported the organization! Even DNC Deputy Chair Keith Ellison, voiced his support of the movement…
Now, members like Ellison are quietly deleting their tweets of support, and all while the Mainstream Media remains silent, and covers up their support! A SAD STATE OF AFFAIRS FOR THE DEMOCRATS AND MAINSTREAM MEDIA TODAY!