By: Brian Evans
This past week, Alabama State Rep. John Rogers (D-Birmingham) defended abortion by saying…
"Some kids are unwanted, so you kill them now or you kill them later. You bring them in the world unwanted, unloved, you send them to the electric chair. So, you kill them now or you kill them later."
How has the Democrat Party fallen so far, into the pits of hell…
However, some Democrats sought to quickly distance themselves from the most extreme abortion stances within their party, as Doug Jones, who will likely be knocked out of his seat due to how conservative his state is, and how he slid into the position, based on the incessant left-wing attacks on the character of his political opponent, Judge Roy Moore!
Therefore, Senator Doug Jones (D-AL) slammed the comments of his colleague as he said that he should apologize for the comments about abortion, and the sick attack made on Donald Trump Jr.!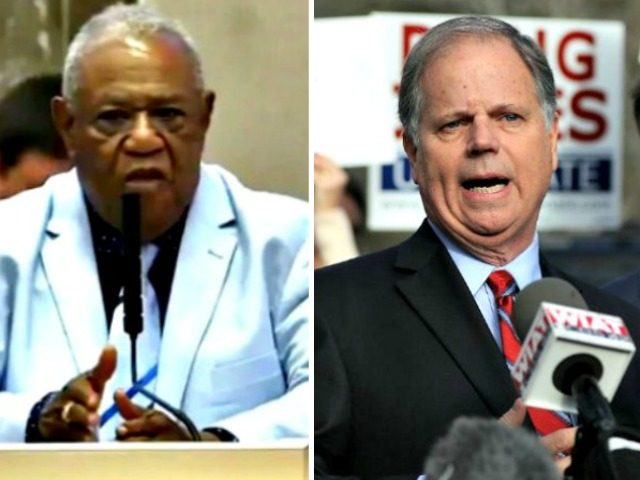 WVTM 13/Getty Images
However, within 24 hours, the Alabama State Representative John Rogers (D-AL) went onto Talk 99.5's Matt & Aunie Show, stating in an interview that Senator Doug Jones (D-AL) agreed with his remarks last week, but said that Jones needed to distance himself from the remarks, due to his re-election campaign for Senate!
Within the interview, Rogers detailed the conversation between Senator Doug Jones (D-AL), and himself, as he said that he told Jones that…
"Everybody who knows me knows I'm combative, and I told Doug that if you want to come out against me, I'm coming out here against you."
Rogers then said that Jones had to come out against his "Kill them (babies) now, or kill them later" comment for political reasons. Rogers added…
"He (Doug Jones) called me twice. He told me, 'John, I know you're right but I have to come out against you."
Rogers then said that he replied to Jones by stating…
"'OK, fine, if it's going to help your campaign, do that.' That's the kind of guy I am."
Rogers then admitted that Doug Jones called him back a second time, and that conversation became "heated." Rogers went on…
"He called back and I didn't know that somebody was trying to call me at the same time, you know sometimes lines get crossed up, and they heard Doug hollering and shouting. And they called me themselves, and I'll tell you who it was: Frank Matthews." (Matthews is a Jefferson County Democrat Political Activist)
Rogers then added that Frank Matthews said…
"'John, wasn't that Doug Jones hollering at you?' And I said, 'Yes it was.' I wasn't going to tell him a lie. I said I told Doug, 'Doug, bye. I'm not ready to talk to you because you cannot apologize for me.' I do my own apologies."
Rogers continued as he said that Jones said…
"'John, John, John, be quiet — shut up. You're killin' me, you're killin' me,'"
Rogers then added…
"He even said I don't speak for Alabamians. I never said I spoke for Alabamians. I speak for my district. You don't chastise me, holler at me like that. He issued an apology for me. I told Doug Jones, I said, 'bye.' I'm not talking to you, we don't have to talk anymore. Because I don't appreciate that… you don't chastise me… hollering and shouting because I'm hurting your re-election. It's bigger than re-election, what I was talking about. Doug Jones was a good friend of mine," Rogers said in regards to the situation. "I said, 'was.' And that's how I feel about it right now."