By: Brian Evans
On Sunday's broadcast of MSNBC's "AM Joy", House Democrat Representative Maxine Waters exuded her true hatred of any American who dares oppose her and her Party's power and greed! In fact, Representative Maxine Waters (D-CA) actually questioned the patriotism of Americans who dare to support President Donald Trump.
It began when Joy Reid was discussing Senator Lindsey Graham (R-SC), and his support for the President, when Watters said…
"One of the things you have to think about is this; who are the Patriots? Who will stand up for America when our obvious enemy is basically hacking into our electoral systems? Who is going to stand up for America and claim to be a patriot when they see that there are many people around this president who have interacted with those from Russia, from the Kremlin, and with Putin? Where are they coming from? And I think when you ask yourself this question, you'd better be concerned about whether or not these are real patriots or whether or not they're in the pockets of the president of the United States wishing to gain favor from the president and they're going to stand up for him no matter what. And so I call out their patriotism at this point this time. You take a look at this report, and you will be shocked at the information that's unfolding."
In March, a group of leftists hate non-Marxists so badly, that they went out and created so-called art, where they dress white men up as Trump supporters, sporting MAGA hats and all, and have them barking, growling, and acting savage. Meanwhile, their masters holding the leashes were both male and female people of color, as well as, both male and female LGBTQ walking the supposed dogs!
Their casting call read…
"Male Caucasians for Human Dogs
Male/Female People of Color to be Dog Walkers
Male/Female LGBTQ to be Dog Walkers

To submit for a role in this project, please RSVP and DM us asap and tell us a little about yourself, as spots are expected to fill up fast. Tag your friends!!!"
The white males dressed up as MAGA Trump supporting Americans were paraded through Hollywood, as people took pictures, laughed, and applauded the 'hate performance' until they reached the Donald J. Trump Hollywood Walk of Fame Star!
In February, on "Real Time" with Bill Maher, the hate-driven comedian even derided Middle Americans who live in red states as being envious of blue-state elitists, the red carpet Hollywood Elitists, as well as, the fact that the Middle Class can't afford anything but Target! He claimed that there is no longer one America, but instead two America's, with one being the wealthier cities and Democrat blue states, and the other being the poorer rural states, which he chided as full of the 'ignorant and uneducated' envious Americans! Sadly, his comments didn't bring about outrage by the leftist Democrats in attendance, but instead laughter and thunderous applause!
Maher then went on to not only attack the Middle Class and Poor in America but to call the states that they reside in that typically vote Republican, the…
"Passover States!"
He then went on to claim that those who live in the blue voting Democrat States are superior to the 'other America', as he said…
"We have a problem in America called spatial geographic inequality which means the most affluent and educated people are clustered in just a few cities. We have orchestras and theaters districts and world-class shopping. We have Chef Wolfgang Puck, they have Chef Boyardee. The blue parts of America are having a big prosperity party while the big sea of red feels like their invitation got lost in the mail — and they still use the mail."
He then said that red states that voted for Republicans were "pissed off," because they were envious of the Elites, as he said…
"The fly-over states have become the passed-over states, that's why red state voters are so pissed off. They don't hate us, they want to be us."
Also this February, Rep. Ilhan Omar (D-MN) viciously attacked Elliot Abrams, who serves as the United States Special Envoy for Venezuela! It occurred during a hearing that was held over the crisis in Venezuela, but instead of using it to look into the crisis, she used the moment to attack American foreign policy, paint American soldiers as evil, and twisted American involvement in Latin America going clear back to the Reagan Administration!
Rep. Omar used her newly found power to attack the past forty years of American foreign policy, the American diplomat himself, and to demonize our American soldiers! She used it as a bully pulpit to slam the United States of America!
Then, she prefaced each of her comments by implying Abrams is a criminal and that he is evil. Then, she related her comments about him to the Iran-Contra incident in the 1980s. She stated that…
"I fail to understand why members of this committee or the American people should find any testimony that you give today to be truthful."
Then, every time Abrams tried to respond, she cut him off, and refused to let him speak! Then, she would go back to using her chair to slam America, the soldiers of our nation, and the Envoy himself! Abrams began to get frustrated with her attacks against him and America, as he replied to her…
"It is not right that members of this committee can attack a witness who is not permitted to reply."
Rep. Omar then began attacking the United States military, referring back to 1981, in regards to the El Mozote Massacre. She then said…
"Yes or no. Do you think that massacre was a fabulous achievement that happened under our watch?"
Then, before Abrams could even answer, she added…
"Would you support an armed faction within Venezuela that engages in war crimes, crimes against humanity or genocide, if you believe they were serving U.S. interests, as you did in Guatemala, El Salvador and Nicaragua?"
Then, you have hate-speech and vandalism occurring like with the Brooklyn, New York Synagogue, which was vandalized with "Die Jew Rats", "Hitler", "End it Now", and "Jew Better Be Ready", on the walls of the Union Temple in Brooklyn. Immediately, the Mainstream Media and Progressive Left attacked conservatives and President Trump However, the authorities quickly ruled out Trump supporters, and found out that it was perpetrated by James Polite, a 26-year-old man, who is a Democrat activist, who was once employed by New York City Council Speaker Christine Quinn, and Barack Obama. The New York Times reported…
Mr. Polite was arrested on Friday and charged with criminal mischief as a hate crime for writing "Die Jew Rats," "Hitler," "End It Now" and "Jew Better Be Ready" in marker on walls of the Union Temple of Brooklyn.

The police said surveillance video captured Mr. Polite, of Brooklyn, inside the synagogue.

He was taken into custody on Friday morning at the scene of a fire that had been set inside the coat room of Yeshiva Beth Hillel of Williamsburg, officials said.

Mr. Polite was charged with arson, reckless endangerment and criminal mischief — all as hate crimes — for setting fires at four other locations affiliated with the Jewish community, including another school. The police recognized Mr. Polite from the surveillance video at Union Temple.
The Daily Caller noted that Democrats, including New York Governor Andrew Cuomo, had used the vandalism in political messages until the picture below was caught on security camera, which pointed out the true vandal who painted hate speech on the walls.  Authorities also believe that he has also set fires outside schools & yeshivas in Williamsburg.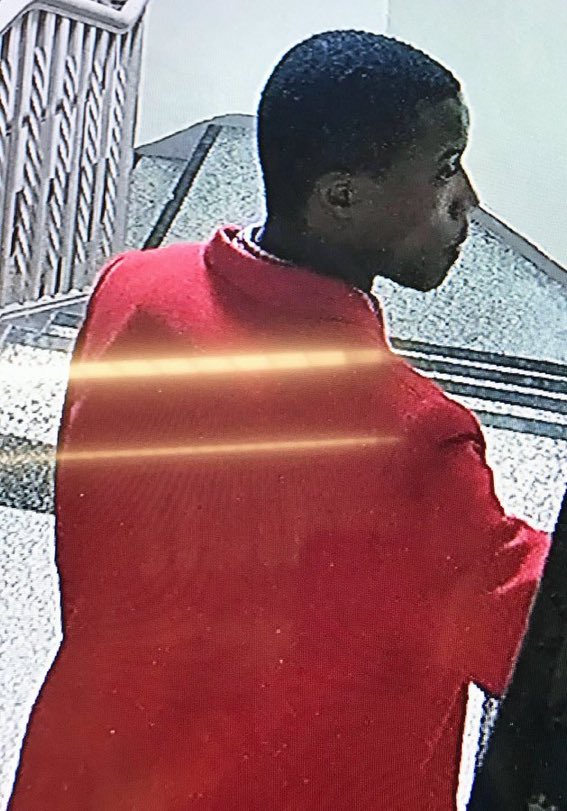 Ironically, Polite worked on hate crime issues, for Democrats, but following his arrest the Democrats claim that Polite suffered from mental health issues, and said that he was taken to a psych ward, after his arrest, and that nothing more should be noted!
Last year, Rep.Maxine Waters called for violence and mob attacks on White House employees in their private lives…
Democratic California Rep. Maxine Waters shocked political observers over the weekend by encouraging liberal mobs to harass Trump officials at restaurants, gas stations and even at home. She said…
"Already you have members of your cabinet that are being booed out of restaurants, We have protesters taking up at their house who are saying, 'No peace, no sleep. No peace, no sleep. Win this battle" against the Trump Administration and his supporters."If you see anybody from that cabinet in a restaurant, in department store, at a gasoline station, you get out and you create a crowd," the congresswoman added. "And you push back on them. Tell them they're not welcome any more, anywhere!"

Maxine Waters (CA-D)
A shocking and dangerous statement, due to the ongoing left-wing hate, discrimination, and violence that has pervaded the Progressive left. Sadly, not even the Congressional Black Caucus would denounce Waters statement today, or even comment about it. The GOP showed just a small sample of what is happening in the Democrat Party…
It is a mentality that has led to incident's like when the 'Democrat Socialist of America' organized a mob to storm the restaurant (MXDX Cocina Mexican Restaurant) that DHS Secretary Kirstjen Nielsen was eating at, and ran her out of the restaurant while chanting "Kirstjen Nielsen, you're a villain, locking up immigrant children."
Sadly, even one of the socialist activists involved in the public mobbing of Nielsen worked for the Department of Justice (DOJ).Then three days later, another Progressive Democrat group known as CREDO Action, showed up at Nielsen's home, and harassed her and her family as her children looked on. The activists played audio of crying immigrant children outside Nielsen's home and chanted "No justice, no sleep!" The agitators continued shouting at the DHS secretary as she walked from her home to her car. YouTube even censored that video…
This isn't the first time that Republicans have been threatened, attacked, and harassed with violence. It has come from Mainstream Media, comedians, Hollywood directors and stars, and yes Democrat politicians. The Mainstream Media has demonized, degraded, and attacked the President as a racist, homophobe, xenophobe, and every other racist word in the dictionary. When Donald Trump first announced his candidacy for President, the media wrote him off as a joke. Then, as he slowly began whittling away at his contenders, the media began disparaging him and slinging insults. Then, as soon as Trump won the Presidency, the Mainstream Media broke down into tears, began attacking the President, and working on a way to immediately discredit President-Elect Trump. Regardless, the attacks and insults only gained momentum throughout the Media, as they began comparing him to Hitler and calling him a Fascist, despite his move to reduce the mere size of government, breadth of its reach, and the depth of its control. Meanwhile, and quite ironically, the very same leftists fought for, and continue to fight for Marxist based Fascism themselves! Still, the MSM falsely and maliciously portrayed President Trump as a Fascist big-government dictator. The following is less than the first year of the Mainstream Media's coverage of the Trump Administration, and it has only gotten worse since this video was compilated…
Print and online Mainstream Media sources are no different, as they have joined in with other Mainstream Media organizations to bash not only the Trump Administration but Republican's and their Americans as a whole unless they supported their far-left Marxist candidate. Even Michelle Goldberg of the New York Times published an op-ed that supports the public abuse Republicans and Trump administration officials, who have been subjected to hate. Goldberg's op-ed is titled, "We Have a Crisis of Democracy, Not Manners".
Then, to drive the hate-train home, the late night so-called comedian's, now turned 'resistance' social-justice warriors, stepped up the attacks even further against the Trump Administration, with one even saying that White House News Correspondent Sarah Huckabee Sanders should be grateful that she didn't get served semen. For example, Breitbart reported that NBC's Late Night Host Seth Myers stated…
"White House Press Secretary Sarah Huckabee Sanders was asked to leave a restaurant in Virginia on Friday because she worked for the Trump administration. Which is weird, because usually people who work for the Trump administration are asked to leave the Trump administration."

"I'm not saying I want everyone who works for Trump to be kicked out every time they go to a restaurant," Myers added. "I just want them to worry that they will be for the entire meal. Because that is just a taste of the unease and dread so many people feel every day because of Trump's policies."

Seth Myers, NBC's Late-Night Host
"Hucka-Sands went out for dinner with her husband and some friends. The staff recognized her and called the owner, who gathered everyone in the back and allowed employees to vote on whether to boot Huckabee Sanders out of the restaurant. Oh good, so, someone's getting due process."

Stephen Colbert, CBS's Late Nite
President Trump criticized the Red Hen Restaurant, calling it "dirty"  and "filthy," for attacking Sarah Sanders, but Jimmy Fallon responded by attacking both President Trump and Sarah Huckabee Sanders…
"A Virginia restaurant tossed Sarah Huckabee Sanders out and refused her service. I know you guys are cheering, but I'm sorry, I think that was the wrong thing to do. I think what the restaurant should have done is treated her the same way she treats the press. Yeah, they should have just brought her an empty plate and then when she goes, 'Where is my food?' you go, 'Oh, it's right there.'"

Noah later joked that Sarah Sanders being heckled and refused service was probably the "nicest thing" that could've happened — the alternative being that the chefs could've ("jizzed") ejaculated in her food.

Trevor Noah, Comedy Central's 'The Daily Show'
One of the top liberal website's Splinter.com published a report threatening bombings against the President over his Conservative policies, depicting his motorcade blowing up, and headlining "This Is Just the Beginning"
Via Splinter.com:
Do you think that being asked to leave a restaurant, or having your meal interrupted, or being called by the public is bad? My fascism-enabling friends, this is only the beginning…

…Read a f*cking history book. Read a recent history book. The U.S. had thousands of domestic bombings per year in the early 1970s. This is what happens when citizens decide en masse that their political system is corrupt, racist, and unresponsive. The people out of power have only just begun to flex their dissatisfaction. The day will come, sooner that you all think, when Trump administration officials will look back fondly on the time when all they had to worry about was getting hollered at a Mexican restaurant. When you aggressively f*ck with people's lives, you should not be surprised when they decide to fuck with yours.

Stop working for this man. Stop enabling him. Stop assisting him. Start fighting him. The people who are responsible for what is happening are not going to get out of this with their happy wealthy respectable lives unscathed. This is a country that locks poor people in cages for decades for trying to make $20. This is a country that is "tough on crime." Remember? And the ones who make the laws are not going to like what happens when America starts to regard them as the criminals.
Now, a Floridian who is active in the Democratic Party is under arrest for threatening to kill House Republican Brian Mast's children. In fact Powerline reported…
Brian Mast is a veteran who lost both his legs to an IED in Afghanistan. In 2016, we endorsed him when he ran for the House. Happily, he won, and now represents Florida's 18th District.
Now, a Floridian who is active in the Democratic Party is under arrest for threatening to kill Mast's children:
Laurence Wayne Key, a volunteer for the Democratic Party of Martin County, Florida, has been arrested after he allegedly made a call to Rep. Brian Mast's (R-Fla.) Washington, D.C. office and threatened to kill his kids over the situation at the border.

"I'm going to find the Congressman's kids and kill them," Key said. "If you're going to separate kids at the border, I'm going to kill his kids. Don't try to find me because you won't."

In fact, the police identified Key's telephone number and found him quickly.

According to his Facebook profile, Key was very active in the local Democratic party. His banner picture showed his support for Planned Parenthood.

He has also expressed a strong dislike for President Donald Trump.
Frightening, that the Progressive-left has moved so far to the communist end of the spectrum, that they have not only embraced threats and mob-like mentality, but they are actually making open threats against the Trump Administration, government officials, and the American voter unless they subscribe to their own ideology.
Now, with the Media, Hollywood, and Democrat leadership using blatant vulgar and disrespectful language, and then attacking the President and his Administration as corrupt, evil and Hitleresque, it is of no surprise that the fruit of their hate-speech and insanely hypocritical, and evil tone would lead to serious threats and open violence. In fact, the threats and violence have not only been leveled against the Trump Administration, but the voters who support the President and his policies have also faced brutal attacks, threats, and various forms of discrimination as well. Today, it doesn't matter to the Democrats what race you are, what religion you subscribe to, what gender you are, what sexual orientation you adhere to. The only thing that matters anymore is what political ideology you embrace, and that ideology has to be progressive, whether or not it is socialist, or communist.
Sadly, in our nation, today, hate and all that comes with it, have become a weapon against other American's who have differing opinions, religious beliefs, or even ideology. It has become 'the new normal', for the democrat party. It has created a climate similar to that of the early days of the Soviet Union, Nazi Germany, and other Progressive-Socialist governments. Therefore, it leaves anyone who stands against the left-wing ideology facing harassment and threats of violence, both in their public and private lives. For example, in June 2017, a left-wing attacker drove to a baseball field that was being used by the Republican Congressional baseball team and intentionally tried to pick off Republican lawmakers with his rifle. Fortunately, there were bodyguards there, which mitigated the casualties, but sadly Republican House Minority Whip Steve Scalise was shot and critically injured, as well as a number of others. Sadly, Republican Steve Scalise has been seriously and permanently crippled by the wounds.
Also, at one of President Trump's inauguration balls in early 2016, violent leftists firebombed one of the guest's limos.
Meanwhile, at another one of President Trump's inaugural balls, a Trump supporter was attacked and egged by another group of hate-filled so-called Protesters. However, protests do not include violence, but instead, assault!
The attacks continue to pile up. In fact, on June 17, 2018, an agitator chased White House advisor Stephen Miller out of a restaurant, while calling him a "fascist." Then, within days, Splinter News, who is owned by Univision published Miller's personal cell number in order for the public to be able to target him.
Then Florida Attorney General Pam Bondi, who is an open supporter of the President's 'America First' policies, was chased out of a movie theatre by a mob who were screaming "shame on you", "you're a horrible person," while spitting on her.
Also, theDaily Caller  reported…
U.S. Capitol Police have arrested a male Democratic operative for assaulting a female Interior Department communications official following a House budget hearing Thursday.

The assault happened after Interior Secretary Ryan Zinke finished testifying on the department's 2019 budget proposal before the House Committee on Natural Resources. The suspect identified himself as a reporter with American Bridge and pushed a female Interior Department communications official to the floor, chasing after Zinke.
Mainstream Media, Democrats and Hollywood Elitists are not the only ones working to stir up anger, hate, and violence. Left-wing Universities have jumped in to help provide information for the radical extreme that wants to target government employees who implement attacks against government and immigration enforcement. For example, a left-wing New York University professor created a database of over 1,500 Immigration and Customs Enforcement (ICE) employees' personal information. Then, the terrorist organization ANTIFA, who acts as an anarchist group, further circulated the list and accused ICE immigration officials of being "Nazis." Ironically, many of the ICE officials are actually Hispanic.
In addition, a leftist-mob approached Mitch McConnell as he left an event at Georgetown University. His wife, Secretary of Transportation Elaine Chao was there, as they pushed forward, and yelled at them, forcing security to push them back. The protesters swarmed the SUV set to take McConnell and Chao off campus, and Chao immediately jumped into defense mode.
Then, FCC Chairman Ajit Pai repealed the Obama era net-neutrality law that was met with hate, and threats towards even his own children. One leftist posted a sign on mother's day that said…
"They will come to know the truth. Dad murdered democracy in cold blood."

Left-Wing Protester
Then, a month after Pai's called for civility, he was forced to cut short a speech due to a bomb threat. Also, in 2017, a left-wing mob went to the homes of Senators Rob Portman (OH-R) and John Boozman (AR-R) to protest outside their own dwellings, in an effort to force them to vote in favor of Obamacare legislation.
Then, leftist groups not only try to use hate, mob mentality, threats of violence, and violence against government officials but to silence all American's who disagree with their message. An April 2017 Republican parade in Portland, Oregon was canceled after they received threats of violence against a local Republican organization. The threats said that they would drag Republicans out of the parade, in an effort to silence them.
An email warning parade organizers promised 200 or more protesters would rush into the parade and drag the Republican marchers out if that's what it took to keep them from participating. They said…
"You have seen how much power we have downtown and that the police cannot stop us from shutting down roads so please consider your decision wisely."
Also, in February 2017, a 71-year-old female staffer for California Rep. Dana Rohrbacher was knocked unconscious during an angry protest that activists staged outside the congressman's office. Meanwhile, a North Carolina GOP office was firebombed a month before the 2016 election and a building adjacent to it was spray painted with a message:
"Nazi Republicans get out of town or else."
Ironically, Conservative's are the opposite of Socialists. They believe in limited or small government, while Nazi's and Communists are both Socialists. Furthermore, the Nazi Fascism is a break-off of the Communist ideology. Therefore, the far-left Progressive's would fall into the Communist and Nazi (Fascist) ideological bracket, not the Conservatives. After all, extreme conservatism or Alt-Right as the Progressive's like to call them would be anarchy (no government). That is why Antifa, Democrat Socialists of America, Occupy Wall Street, and Black Lives Matter is always the groups that implement communist, fascist, and radical violence that is designed to scare, intimidate, threaten, and injure all those who refuse to conform to their radical ideological norms. The following is just a small glimpse into what the communist Antifa organization imposes upon all who defy their agenda, like Republicans, Conservatives, and Trump supporters, etc….
Undercover behind the scenes footage shows that it is Progressive-Socialist and Communist ANTIFA agitators that intentionally target Trump supporters and 'America First' supporters, with the goal of violence, and fear. A TRUE COMMUNIST TACTIC…
Hispanics in San Diego attacked the Police, as they tried jump over the barricade during a Trump campaign rally in 2016. We are not able to identify how many were illegal immigrants, but they were protesting the President over his desire to secure the border.
Then, instead of the Democrats denouncing the threats, violence, and hatred, they called for the abolishment of government agencies that are enforcing the United States borders and blaming them for the immigration problems that the Democrats created, by refusing to help President Trump secure the border! Many Democrats are even calling the ICE Immigration Agency, a terrorist organization, despite the dangerous work that they do on a daily basis to protect America and Americans.
Then, the Obama Administration's CIA Chief John Brennan said any Republicans that can… 
"Force Trump out of office" would be heroes.
The question for today and even tomorrow, is where is the Democrat Party heading? Are they pushing America back to the days of segregation? As Conservative journalist Laura Loomer said,"Should conservatives sit in the back of the bus?" and "Where should conservatives eat?" Democrats are also attacking 'Whites', 'Christians', 'Black Conservatives', 'Hispanic Conservatives', or anyone else who dares question their collective mindset, regardless of race, color, religion, of sex! 
Today, we should ask, are Democrat's heading towards a full embracement of Marxist based Fascist ideology? Are they fighting for an ideology that calls for an uprising against all who refuse to embrace their radical agenda? Are they fighting for an ideology that embraces hate and discrimination? An ideology that fights to end free speech, free thought, free expression? An ideology that would snuff out the Constitution of the United States, and all the rights and privileges that come with it? An ideology that sadly is responsible for the extermination of more than 110 million human souls?
Earlier this month, the former Obama Administration Attorney General Eric Holder set off a firestorm when he began attacking President Trump and his supporters on MSNBC! It wasn't so much that he was attacking Trump and his supporters, as that wouldn't be anything out of the ordinary on the network, but it was how he went about launching the attack! In fact, as the President and Trump supporters slogan is to "Make America Great Again" (MAGA), Eric Holder said to them…
"Exactly when did you think America was great?"

Eric Holder, (Obama Administration AG)
Eric Holders comments are reminiscent of New York Gov. Andrew Cuomo, who said in 2018 that America…
"We're not going to make America great again. It was never that great."
Also, there were Michelle Obama's comments in 2008 when Barack was running for President. She said…
"For the first time in my adult lifetime, I'm really proud of my country."
Today, it is sad how so many Americans have not only turned their back on America, but they have turned their backs on their fellow brothers and sisters in the United States! At the founding of our nation, the men and women throughout America did whatever it took to look after their families, their neighbors, and their friends! Now, the Marxist political ideology has taken over the Democrat Party, as they have miseducated our youth, in order to build their pro-Socialist, pro-Marxist army, designed to work towards the eradication of the freedoms and rights that we have been blessed with since the founding of our great nation!
Today, the Democrat Party is not the Party of our Grandparents. It has morphed from a liberal agenda, into a Progressive-Socialist agenda, and now into something much more terrifying. It has become the very thing that our nation has always feared, as it snuffs out the American dream and all the freedoms that we take for granted today!  Sadly, Democrats are fighting against equality, fairness, justice, and freedom. They fight against the sovereignty of America and putting America, and American's first. Sadly, if they continue on their hate-ridden, anti-American path, they are ultimately leading the United States of America towards a second civil war. That is if they choose to continue on their violent, un-American, hate-ridden path. A path that discriminates against anyone who opposes their radical left-wing agenda. An agenda that goes against the very fabric of our great nation, and against the very concept of what it means to be an American! They may think America was never great, but Middle Americans know that America has always been great! We may have had our fair share of problems throughout history, like slavery, but we have certainly rectified those wrongs and worked to make America into the greatest nation on earth. We have Martin Luther King! We have the Constitution of the United States of America! America saved Europe from Hitler's Nazi Germany, and the Jews from annihilation! America discovered flight, landed on the moon, freed the slaves, gave women and minorities the right to vote, and so, so, so much more! 
Now, as the radical left continues to call us the "deplorable", as they call us "ignorant" or "ignoble", as they call us 'spacial and geographically' challenged, and as they call us the envious, they fail to understand what makes us GREAT! They fail to understand that we love Middle America, and what it means to be an American! America isn't something that they can destroy through a bill or legislation! America isn't something that they can eradicate by trampling on the Constitution of the United States of America, or even burning it into ash! That is because America lives inside each and every American citizen! It lives inside of us! That is why Democrats and their Marxist allies have targeted our schools, colleges, and universities! They have waged a war on the hearts and minds of the American people, especially the young! They know that family and friendships, combined with our Christian faith, is the glue that holds our nation together! Therefore, they have set out to destroy Christianity! They have set out to pit woman against man, parents against their children, the old against the young, and the rich against the poor! The Democrats have set out to give Americans free education because if they control the education of America's youth, they control the future of our nation!
Today, Democrats don't understand why Middle America supports President Trump, but it is simple! He not only says that he supports what the Middle Class and Poor in America want, but he follows through in action! Today, President Trump has become one of the greatest Presidents in history, as he is fighting for the forgotten men and women in America! President Trump said that he would fight for Middle America, and he has, and continues to fight for us! We may shop at Wal-Mart or Target! We may live in houses that pale in comparison to the Elitists who try an tell us how to live, how to shop, how to eat, how to heat and cool our homes, and how to vote! Sadly, Democrats don't understand why so many throughout Middle America could vote for President Trump, rather than their propagandized Elitists, but it is simple! Middle America thinks for ourselves, educates ourselves, and we put our faith, not in government as they would like, but in the Lord God himself!