By: Brian Evans
After the Empire actor Jussie Smollett reported that on January 29th, two masked men in MAGA hats attacked him, yelling racial and homophobic slurs, as well as "Aren't you that faggot 'Empire' n***r?", and "this is MAGA country". Then, he said that they tied a noose around his neck, beat him up, and dumped a chemical on his head which he later said was bleach. Smollett went on ABC and discussed the incident, as he described himself as the victim…
Although ABC tried to paint the incident and Smollett as "credible and consistent", and they claimed that Smollett has been extremely "cooperative" with the Police, the Chicago Police Department has now revealed he has been quite the opposite. For example, as they requested evidence like phone records, he first refused to give them those phone records. Also, as his story began to fall apart, he gave the police a "heavily redacted" version of the logs. In addition, they released evidence that has shown his story has shifted and been ever-changing, as the story crumbled!
Regardless, Democrats and their left-wing supporters went on the attack against pro-Trump Americans, as they stated things like…
"Heartbroken and furious reading about the attack on @JussieSmollett. I want Trump and all MAGA lunatics to burn in Hell."

Billy Eichner, Comedian
"The racist and homophobic attack on Jussie Smollett is a horrific instance of the surging hostility toward minorities around the country. We must come together to eradicate all forms of bigotry and violence."
Sen. Kamala Harris (D-CA) describing it as an "attempted modern day lynching."

"No one should have to fear for their life because of their sexuality or color of their skin. We must confront this hate."
Senator Cory Booker (D-NJ) had even called on the House to pass legislation that would designate lynching a federal hate crime!

Then, similar to Senator Kamala Harris, he called the incident a "modern-day lynching."
Sen. Kirsten Gillibrand (D-NY) called the incident "a sickening and outrageous attack, and horribly, it's the latest of too many hate crimes against LGBTQ people and people of color."
Meanwhile, Smollett fed into the hate, as he said that his attackers were "white", and that nobody would have doubted him, had they been…
" Muslim, or a Mexican, or someone black."
Ironically, as evidence has been unearthed by the Police, it is now known that the attackers were apparently staged and paid off by Smollett himself, as they were black men from Nigeria were wearing red hats, as to impersonate 'MAGA' Trump supporters!
However, now the actor's story has now been debunked, as he is being investigated for filing a false hate-crime report! At this point, it is of no surprise, as his story was ever changing, various aspects of his story didn't make sense, and then as his co-conspirators began admitting to being paid by the actor!
Now, according to new reports, the Chicago Police Department is investigating Empire actor Jussie Smollett himself, as they believe that he staged the attack on himself last month. CNN's Shimon Prokupecz stated that several sources within the Chicago Police Department indicated that…
"Chicago Police believe Jussie Smollett paid two men to orchestrate the assault. The sources tell CNN that the two men are now cooperating fully with law enforcement."
Also, Chicago's Fox 32's Rafer Weigel reported that several police sources as well, who indicated that two Nigerian brothers named Abimbola "Abel" and Olabinjo "Ola" Osundairo, who were 'extras' on the Empire set, were arrested and questioned by the Chicago police about the alleged incident. Also, in the report, the two brothers revealed that they were paid by Smollett to purchase the rope from a hardware store, which was made into a noose and placed around Smollett's neck the night of the alleged 'MAGA' attack. In addition, Charlie De Mar of CBS Chicago revealed that on the weekend of January 25th, Smollett directed the two brothers to not only purchase the rope, but to purchase two plain red hats, which were apparently used by the two brothers to look like 'Make America Great Again' hats, as to smear Trump supporters!
CBS's DeMar then revealed that the two Nigerian brothers were then paid $3,500 before traveling to Nigeria and promised an extra $500 upon their return.
When the two Osundairo brothers returned from Nigeria and were arrested at the Chicago O'Hare International Airport, as to be brought in for questioning, regarding Smollett's case! After questioning, they were released with no charges, but the New York Times reporter Sopan Deb revealed that the Chicago Police Department stated…
"After we spoke to the former suspects last night, detectives reached out to Jussie Smollett's attorneys and expressed interest that we need to talk to him again."
Smollett continues to defend his story and claims that he was entirely truthful, but he has made a number of public statements on national television, and to the Police, all of which contradict each other! He stated to ESSENCE magazine…
"I am working with authorities and have been 100% factual and consistent on every level. Despite my frustrations and deep concern with certain inaccuracies and misrepresentations that have been spread, I still believe that justice will be served."
On ABC's Good Morning America, after being exposed as the perpetrator of hate, rather than the victim, Smollett tried to turn himself back into the victim by stating that he was being targeted due to his opposition and sometimes vile words about President Donald Trump and his Administration. He said…
In addition, Smollett has hired left-wing attorney Michael Monico, who is the same high-powered criminal defense attorney representing Michael Cohen, who has also been trying to cripple the Trump Administration in the Mueller Special Counsel probe!
Sadly, today Smollett is now disputing the facts that he originally reported to the Chicago Police! In fact, he claimed on 'Good Morning America', that he never said the attackers were wearing MAGA hats. Then on Saturday night, Smollett and his lawyers issued a statement, calling the Chicago Police liars!
Now, on Sunday, CBS's Charlie De Mar revealed that Jussie Smollett has retained the services of Anne Kavanaugh, whose firm works as a crisis management agency after his story fell apart, and as he is now under investigation.
Unfortunately, this isn't the first time that radical leftists have tried to set up and paint Trump and his supporters as racists, homophobic hate-mongers! In fact, Breitbart reported how just in 2018, hate-crime hoaxes have skyrocketed by the now-radicalized Marxist left! The following are just a sample of the past year of left-wing hate-crime hoaxes, as they tried to set-up and frame Conservatives…
 In January, it was discovered that a Muslim girl had lied to police in Toronto when she told them a man had "cut off" her hijab. The hoax quickly gained the attention of Canadian media, as well as Prime Minister Justin Trudeau, who told reporters that his "heart goes out the young girl who was attacked, seemingly for her religion." Police concluded that the incident had never occurred.

A Long Island woman told detectives in September that four teenagers had confronted her, yelling "Trump 2016!" and that she woke up the next morning to find her tires slashed with a note that read, "Go home." The woman ended up being arrested and charged for fabricating the story about the Trump-related hate crime.
Every time, the Mainstream Media takes each story as fact, publishes the smears across the television sets, internet sites, and newspapers worldwide, and when the truth comes out, they quietly move onto the next smear, and either fail to publicly retract their statement or do it quietly! Even on Facebook and other Social Media sites, they allow the hate-hoaxes to saturate their platforms, but when the truth comes out, they refuse to allow it on the platform, therefore making the public continue to believe MAGA Americans are racist and homophobic! For example, the 'American Conservative' revealed that their blog post's contents cannot be said on Facebook! They said…
This is how the soft totalitarianism is going to come: by those who control the primary means of sharing information deciding that news and commentary that don't fit the Narrative cannot be shared:
Meanwhile, Hollywood and Democrats attack the President and the average Americans as racist and bigoted, and refuse to promote the facts! For example, Actress and activist Alyssa Milano compared the "Make America Great Again" hats worn by President Trump's supporters to the white hoods worn by members of the Ku Klux Klan, when the Covington Catholic school students were wrongfully smeared as racists, despite them being the targets of racism, rather than the perpetrators! Milano tweeted…
"The red MAGA hat is the new white hood. Without white boys being able to empathize with other people, humanity will continue to destroy itself."
Sadly, Milano and many Democrats refused to apologize, or retract their statements! In fact, Milano even doubled down on her claim in her piece published by The Wrap, where she said…
"Here's the thing: I was right."
Even the House Budget Committee Chair Rep. John Yarmuth (D-KY) called for a ban on teenagers wearing "Make America Great Again" (MAGA) hats, after the Covington school children were smeared! He then went even further, and blamed the so-called student behavior on President Donald Trump!
Yarmuth holds one of the most powerful positions in the Democrat-run U.S. House of Representatives. Rep. Yarmuth (D-KY) said…
IN OTHER WORDS, THE NEW MARXIST DEMOCRAT MOTTO IS…
"GUILTY UNTIL PROVEN INNOCENT", especially as they set up fake 'Hate-Hoax' crimes, one after another!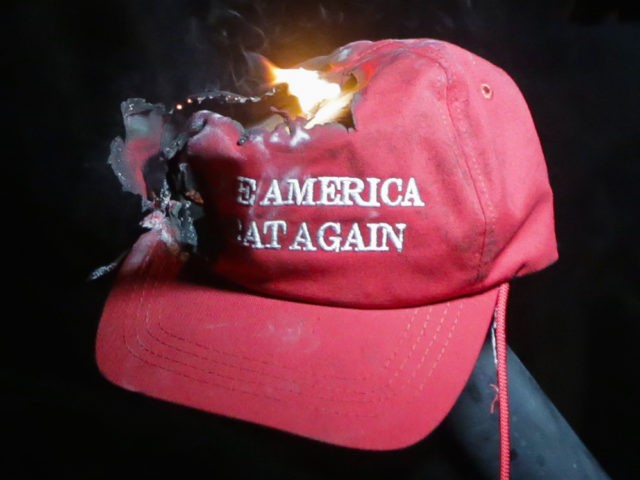 Elijah Nouvelage / Getty
In the end, their goal is to destroy not only the average American's voice and reputation, but to destroy America's as well!