By: Brian Evans
At tonights State of the Union, President Trump delivered a message of unity, however, the stage was already set up to be quite the opposite by Democrats. In fact, Representative Maxine Waters (D-CA) told Americans to switch off their televisions during President Donald Trump's State of the Union address Tuesday evening. She said on Monday that…
"I don't even know why he wants to come and give the State of the Union. The state of the union under him has not been good and he has been divisive, and I think he's putting us all in harm's way. And so he is not worthy of being listened to."
Also, Rep. Alexandria Ocasio-Cortez, (D-NY), brought an anti-Trump activist by the name of Archila, who made headlines protesting against now-Justice Brett Kavanaugh's nomination to the Supreme Court. Archilla is best known by most Americans for cornering then-Sen. Jeff Flake in a Senate elevator and pleaded for the Republican lawmaker to vote against Kavanaugh! After her aggression, Flake agreed to delay a committee vote to allow for a brief investigation.
Archila said she is "honored" to be the guest of Ocasio-Cortez and to be able to now sit in on the State of the Union. Also, Archila said she will be wearing white and a pin the congresswoman gave her that says…
"Well behaved women rarely make history."
Rep. Bonnie Watson Coleman (D-NJ) brought an illegal alien who has violated America's immigration laws by the name of Victoria Morales. She is a Guatemalan woman living in the U.S. illegally and was fired from the Trump National Golf Club after they became aware that she lied to the Club to gain employment. Morales has been critical of the Trump Organizations hiring practices, especially being they are implementing E-Verify, to check employees' documentation for legal status.
Representative Jimmy Gomez (D-CA) brought Sandra Diaz, who is a Costa Rica native, and who worked for the President's club from 2010 to 2013. Diaz now has legal status, but she says she is angry, because of how the President has labeled some immigrants as violent. She is referring to the President's reference to MS-13 gang members, rapists, human traffickers, and drug smugglers who are mixed in with the caravans.
Senator and 2020 Presidential candidate Kamala Harris (D-CA) brought a federal employee who was affected by the government shutdown. She said…
Sen. Jeff Merkley, D-Ore., brought mother and daughter from Guatemala who was denied asylum in the U.S. because they did not qualify. Eventually, under the policy that was initiated under President Bush, the two were separated for two months last spring, as they awaited deportation. Despite the policy being in place under the past several Administrations, Merkley blamed the policy on President Trump and called his Administration a "dark and evil place". He said…
"This child separation policy came from a dark and evil place within the heart of this administration. Innocent children suffered because of deeds that were carried out in our names and using our tax dollars as Americans. I'm bringing Albertina and Yakelin as my guests to the State of the Union because we need to bear witness to the suffering that this cruel policy inflicted, and resolve to make sure that nothing like this ever happens in the United States of America again."
A number of other Democrat lawmakers like Senate Minority Leader Chuck Schumer (D-NY), Minority Whip Dick Durbin (D-IL), and Sen. Tim Kaine (D-VA), brought guests, primarily federal workers who were affected by the partial government shutdown. They include 11 members of the National Air Traffic Controllers Association (NATCA)
Senator and 2020 Presidential candidate Elizabeth Warren (D-MA) brought a Department of Housing and Urban Development employee Sajid Shahriar, a furloughed Department of Housing and Urban Development employee and labor union leader. Warren said that…
"Government workers like Sajid shouldn't be used as bargaining chips."
Other Democrats brought guests that have been affected by gun violence to push their position of gun confiscation legislation, as well as, guests who have high insurance premiums, as they push for the government take-over of our healthcare system!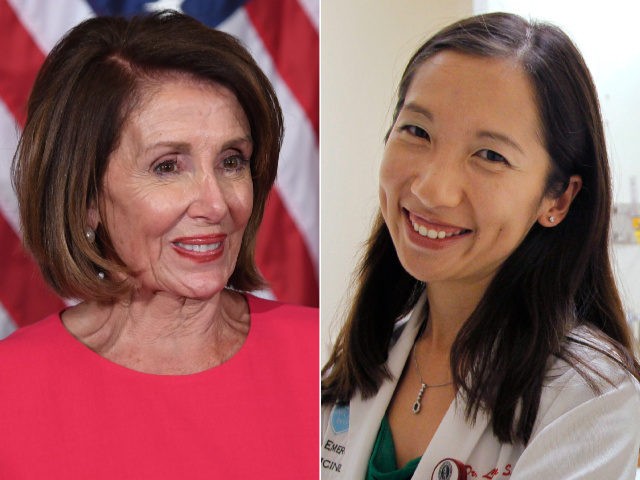 Then, Speaker of the House Nancy Pelosi brought Leana Wen, who is the President of Planned Parenthood. An organization that has performed 332,757 abortions in 2018 alone. Also, Planned Parenthood has received $563.8 million in federal funding, according to their latest annual report. Even more unconscionable, is the fact that Planned Parenthood has been responsible for organ harvesting from babies who are murdered during an abortion, sometimes in the last moment of a woman's pregnancy! The following video shows and describes aborted babies, born alive, then killed for organ procurement by Planned Parenthood…
Thankfully, the President called for an end to partial birth abortion, and infanticide. In fact, he called out the Democrat Party policies of late, that have supported and even called for abortion up to the moment of birth, and infanticide! President Trump also
slammed Virginia Governor Ralph Northam for advocating for infanticide of newborn babies! Democrats were not at all happy, as they have been pushing for abortion up to birth and sometimes beyond…
In fact, President Trump said…
"All Children, born and unborn, are made in the holy image of God!"

President Donald J. Trump
Speaker of the House Nancy Pelosi (D-CA) was even being showing her disrespect to the President, the Office, and the American people, as she spent the State of the Union tweeting derogatory comments about the President and his speech during the State of the Union! During the State of the Union, she tweeted…
And…
Sadly, the Democrats have proven to put illegal aliens before legal Americans! They put their Marxist agenda over the young and helpless, as they push for infanticide and late-term abortion! They put Socialism over the American dream. Sadly, Tuesday nights State of the Union proved to be no different for the Party of division, the Party of illegal aliens, the Party of hate, and most certainly the Party of 'Resistance', as they fight against the promises and glory, of the United States of America!
Thankfully, we have President Trump, fighting for the youth of our nation, fighting against childhood cancer, and fighting to protect us from ISIS and enemies abroad! Thankfully, he is fighting to rid our streets and homes of illegal opioids like Fentanyl! Thankfully, he is fighting our war against the precious babies who are fully developed and even born-alive, while radical leftists call for putting them to death! Thankfully, we have a President who is fighting to eradicate the ruthless MS-13 gangs, and to secure the border from those who try to violate the laws of our nations! Furthermore, thankfully, we have a President who is willing to fight against the radical Marxist infiltration of our nation, as they try to transform America into a socialist and communist nation! After all, as the President said in the State of the Union…
"We are born free, we stay free…America will never be a Socialist country!"

President Donald J. Trump
UPDATE… MAJOR BREAKING CBS POLL…