By: Brian Evans
This Christmas it was probably no surprise in that the Mainstream Media was continuing to perpetrate Fake News and a hit job on the President of the United States, with CNN and NBC News at the tip of the spear. However, it all started with NBC's report that was released on December 26th that headlined the following…
Trump becomes first president since 2002 not to visit troops at Christmastime

Though he called military personnel on Tuesday, Trump did not visit a hospital or a military base.

nbcnews.com
However, ironically at the same time that NBC was launching their anti-Trump smear, the President and First Lady Melania Trump were in route to make a surprise visit to troops overseas in Iraq and Germany, as Melania became one of the few First Ladies to actually enter a war zone.
NBC News scrambled not to correct the smear against the President, but to save face, as they changed the headline from…
Trump becomes first president since 2002 not to visit troops at Christmastime
to…
Trump becomes first president since 2002 not to visit troops on or before Christmas

Though he called military personnel on Tuesday, Trump did not visit a hospital or a military base.
Regardless, throughout the morning the President was being inundated with hate-mail and nasty comments on social media and on the Mainstream Media, claiming that he was ignoring the American troops. For example, MSNBC producer Kyle Griffin attacked the President by stating…
Trump becomes first president since 2002 not to visit troops at Christmastime.

Montel Williams

✔@Montel_Williams

Instead of visiting the troops, @realDonaldTrump has: Crashed the stock market, gone to war with Jim Mattis, delivered a nice Christmas gift to Vlad (Syria) and presided over an "immigration policy" that has killed two kids in a week… https://www.nbcnews.com/politics/white-house/trump-becomes-first-president-2002-not-visit-troops-christmastime-n951846 …
NBC producer Dafna Linzer said…
Regardless of the Progressive attacks on the President in Hollywood and the Press corps, he received a huge welcome from the troops overseas. In fact, as the President and First Lady Melania Trump took to the stage, the troops chanted…
"USA! USA! USA!…"

American Troops in Iraq
President Trump fired up the troops at Al Asad Air Base in Iraq as he detailed his decision to remove troops in Syria and said the US can use its base in Iraq to target the terrorists in the region.
One soldier posted the moment on Twitter, highlighting how it brings tears to one's eyes…
Also, at one point, a soldier came up to the President and told him…
"I came back into the military because of you."

American Soldier in Iraq
President Trump responded by saying to the soldier…
 "and I am here because of you."

President Donald J. Trump
Liberals tried to spin the news President Trump made a surprise visit to Iraq by saying he was just there to use the troops as a prop.
Also, President Trump and First Lady Melania stopped to visit the United States troops at Ramstein Air Base in Germany on their way back from the Iraq War Zone, where a number of soldiers posed with the President wielding 'MAKE AMERICA GREAT AGAIN' hats and one 'Trump MAGA flag' during his Christmas visit with American troops stationed at Ramstein Air Force Base in Germany, in the hopes to get his signature.
Interestingly, after attacking the President for not supposedly supporting our American soldiers, the Mainstream Media turned its sights on our American troops, for daring to be proud of, and in support of the President of the United States. In fact, former Politico and now Bloomberg reporter Jennifer Epstein launched an attack and mission to reprimand and punish any American soldiers who dared to bring 'Make America Great Again' hats or items to have their President sign, despite it being praised during the Obama Administration.
Meanwhile, CNN and a former Obama official launched an attack on the President for signing the troops' items, and they began pushing for troops to be punished for bringing the items to be signed when they met with President Trump.
President Trump took selfies and signed the 'MAGA' hats and items in an effort to boost morale, similar to Obama signing photos of the President, and taking pictures with the troops. However, CNN and other Mainstream Media outlets like NBC took it upon themselves to launch a new wave of attacks against our troops separated from their families and serving overseas at Christmas, as they posted the headline…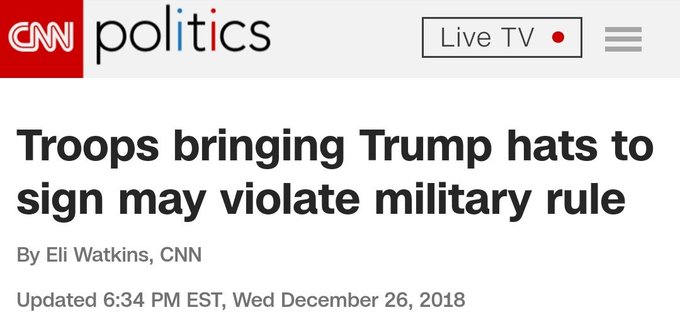 CNN wrote…
Video footage and the written report of Trump's visit with service members in Iraq showed the President signing "Make America Great Again" hats and an embroidered patch that read "Trump 2020."

But troops' requests for the autographs could brush up against Department of Defense guidelines for political activities.

Those guidelines say that "active duty personnel may not engage in partisan political activities and all military personnel should avoid the inference that their political activities imply or appear to imply DoD sponsorship, approval, or endorsement of a political candidate, campaign, or cause."

US military authorities in the coalition did not immediately respond to CNN's request for comment.
However, what CNN and other Mainstream Media outlets fail to note, is the fact that not only is it commonplace for troops to get autographs of photos and other materials from their President, but the troops were not sponsoring, approving, or endorsing a political candidate, but were showing their pride and support of their COMMANDER IN CHIEF of the Armed Forces!
However, regardless of the facts, and as a result of the various Mainstream Media outlets like CNN, NBC, Bloomberg, and others pushing hate towards both our Commander in Chief and our American servicemen and women, their supporters immediately began throwing hate speech towards those very men and women who put their lives on the line to protect Americans!
It was a huge turn of events, as the Mainstream Media and left-wing Democrats did a 180 degree turn, and switched from using the troops as a prop to attack the President for not paying attention to their service to our nation, to now attacking those very same troops for their open pride in their Commander in Chief of the Armed Forces. In all, it shows that Progressive-Socialist Globalists only support black Americans, hispanic Americans, women, gays, and yes veterans, so long as they support their ideological ends. In truth, they don't really care about anyone who is unwilling or unable to support their communist aims. And this Christmas, it was the men and women who put their lives on the line to protect the very freedoms and rights that Progressives plan on replacing with a Global Socialist and Communist State! Furthermore, it goes to show that the many within the Mainstream Media no longer are there to report the news, but instead push ideology, as they have truly demonstrated themselves to be an 'enemy of the American people' who still believe in our Constitution, freedom, and representative democracy!