By: Brian Evans
After spending Christmas with his family Ronil Singh of the Newman, California Police Department was out patrolling the roads on December 26, 2018. Sadly, it proved to be the last day that his family would see him alive, as he was pointlessly slaughtered by an illegal alien while on duty.
As it turns out, Ronil Singh was also an immigrant, but instead of coming into the United States illegally, he chose to do so through legal means. According to the Stanislaus County Sherriff Adam Christianson, Officer Singh was a legal immigrant who immigrated from Fiji, and was determined to become not only an American citizen but dreamed of becoming a police officer. Unfortunately, after achieving his dream, his life was cut short by a man who chose to break United States immigration laws and enter the country illegally. Sheriff Christianson said…
Unlike Ron, who immigrated to this country lawfully and legally to pursue his lifelong career of public safety, public service in being a police officer, this suspect is in our country illegally."

Stanislaus County Sheriff Adam Christianson
The Los Angeles Times reported that…
"Singh, who was Indo-Fijian, came to the U.S. from Fiji about 20 years ago, his family said. He volunteered with the Modesto Police Department and was a Turlock Police Department cadet. He spent part of his career with the Merced County Sheriff's Office as a reserve deputy sheriff."

Los Angeles Times
On Thursday, President Trump said…
There is right now a full scale manhunt going on in California for an illegal immigrant accused of shooting and killing a police officer during a traffic stop. Time to get tough on Border Security. Build the Wall!
Sadly, as the Newman Police Chief Randy Richardson spoke to reporters, he was fighting to speak through his tears, and he noted that…
"Singh immigrated to the United States from Fiji, determined to be a police officer. He commuted more than two and a half hours from his home to the police academy in Yuba City, which he put himself through."

Newman Police Chief Randy Richardson
Singh left behind a wife and 5-month-old son. The Newman police chief said that Officer Singh…
"truly loved what he did."
Thankfully, on Friday, the suspect known as Gustavo Perez Arrigga was arrested about 280 miles away from the site of the officers shooting. The illegal alien had reportedly crossed into the United States illegally around Arizona and was attempting to flee back to Mexico after he killed the American Police Officer. Arrigga is said to have known ties to a Mexican American gang and had two former DUI arrests, which was why Officer Singh had pulled over the illegal.
Fox News posted the photo of the cop-killer, and said…
The photo shows the alleged "cop-killer" posing in a tank-top shirt, with a metal chain necklace draped around his neck and a large flaming skull tattoo visible on his right arm. Underneath the tattoo is the word "$ur3no$," which, according to police in Washington State, is Spanish for "southerners".

"Sureños are a group of Mexican-American street gangs with origins in southern California (south of Bakersfield)," reads a profile on the group in a police gang recognition guide. "The gang has allegiance to the [California] prison gang, Mexican Mafia, aka "La Eme".
Fox News also pointed out that…
the gang that he was involved with has ties to multiple murders and human smuggling across the US border.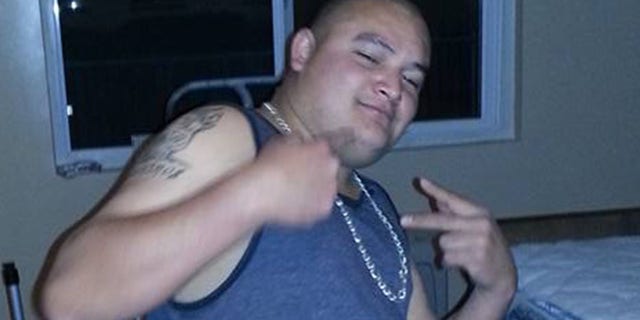 Democrats and the Mainstream Media continue to attack the President for wanting to 'build a wall' and protect the American border despite it putting both migrants and American citizens at risk. In fact, as the Mainstream Media covered up multiple migrants deaths being the result of the horrendous journey that they take, they try and blame it on our border police and even President Trump himself. In fact, they blamed the President for the death of several children who became ill due to dehydration and sickness related to the journey from Central America. One recent example involves a Guatemalan 8-year-old boy who died after his father had declined medical treatment, despite doctors concern for his safety. However, instead of placing the blame on the parents for dragging the child through dangerous terrain, and through criminal drug cartel territory, they blame the Border Patrol and President Trump. Interestingly, the left-wing Mainstream Media failed to note that the mother of the eight-year-old told Reuters that she sent her son on the treacherous voyage to help her husband's chances of being able to stay in the US, despite being illegal.
Also, Democrats, Progressives, and Mainstream Media previously attacked President Trump and the Border Patrol for the death of a 7-year-old girl who was drug through the desert by her father, who was arrested in a remote desert along the US border. She was admitted to the hospital due to a fever and dehydration, but later died due to her condition. Even the father admitted that authorities did all they could to save her. However, that was not the narrative that the Progressives wanted streaming across TVs and radios across the nation.
Therefore, while Democrats compare migrants to Jewish Holocaust Survivors, and their children to 'Baby Jesus', they fail to note the real problems that it brings to America. Problems like virulent diseases that pervade the migrants, as Mexico moves the migrants away from their Tijuana population centers for fear of the ramped disease, and as the Department of Homeland Security has requested that the Centers for Disease Control investigate the diseases that have reached our American borders. Also, illegal immigration has brought on massive violence with MS-13 gang members savagely beating and killing Americans throughout US cities, and now legal immigrants pointlessly having their life snuffed out prematurely, and hundreds of terror suspects caught along the border.
Meanwhile, illegal immigration costs the American taxpayers $155 billion per year, plus the cost to American lives, and all while migrants at the border are demanding either entry into America or financial reparations compensation from the American taxpayers.
Today, Americans are faced with a choice. Either side with Democrats like Pelosi who have vowed to pass the Dream Act, and grant amnesty for Illegal Aliens and keep America's borders wide open and unsafe, or side with Constitutional law, and secure the border and demand only legal immigration into the United States.
The Stanislaus Sworn Deputies Association has established a memorial fund in Singh's honor.