By: Brian Evans
On Monday night, the radical progressive militant wing of the left known as AntiFa, stormed a restaurant in Washington D.C., where Republican Senator Ted Cruz and his wife were eating at, when they became aggressive and forced the Senator and his wife out into the street. They chanted "we believe survivors," in reference to the allegations leveled against Judge Brett Kavanaugh.
Why did they attack Senator Ted Cruz? They did so in the name of anti-racism! Ironically, their demonstration simply further highlights how as they claim to fight against racism and bigotry, it is the AntiFa's and Progressive's in our nation and world who openly practice racism and discrimination against women, immigrants, and minorities. Groups like AntiFa have now attacked Senator Cruz, who is a second generation immigrant, as his father and mother, Raphael and Cecelia Cruz, immigrated from Cuba. They became conservatives because they didn't want their children's America to end up like Cuba or Venezuela. In fact, it is ironic that a group of 'angry white' racists who are members of AntiFa, claim racism as they attack a second generation hispanic and his wife. Even more ironic, is they chanted how Cruz' democrat opponent Beto O'Roark was more superior and better looking than his Hispanic counterpart Cruz.
Following the attack on Senator Cruz, AntiFa immediately sent a threatening message that said "YOU ARE NOT SAFE" to Cruz, President Trump, Kavanaugh, and Conservatives. They went on to say that…
"No — you can't eat in peace — your politics are an attack on all of us You're [sic] votes are a death wish. Your votes are hate crimes. Tonight Senator Ted Cruz arrived at Fiola, an upscale restaurant mere steps from the White House, to enjoy a hearty Italian dinner. He could have dined on a lavish four course meal for only $145 while millions of Americans struggle to buy groceries. He might have sampled from the top shelf wine list as migrant children languish in cages."
They sent a tweet that read…
p1. No—you can't eat in peace—your politics are an attack on all of us

You're votes are a death wish. Your votes are hate crimes.

Tonight Senator Ted Cruz arrived at Fiola, an upscale restaurant mere steps from the White House, to enjoy a hearty Italian dinner.

Smash Racism DC

@SmashRacismDC

BREAKING. Activists just chased @TedCruz out of a fancy Washington DC restaurant, chanting "We Believe Survivors!"

Cruz has been friends with creep Kavanaugh for 20 years. Now Cruz is on judiciary committee hearing his testimony.

Fascists not welcome! #CancelKavanugh
AntiFa then went on to defend their blatant racist and hate-filled attack on Cruz and our nations Constitutional Republic! They said that Cruz's politics were in and of themselves an attack, and therefore it justifies their violent and threatening assault, regardless of no provocation. Sadly, AntiFa is sounding something very reminiscent of Cuba following their communist revolution, Nazi Germany, or the Soviet Union's ruthless secret police.
AntiFa claims that their attack was due to  President Donald Trump's "zero-tolerance" immigration policy that separated children from their parents after illegally crossing into the United States. However, Senator Cruz actually proposed legislation to keep illegal immigrant families together, while the progressive left has utilized every avenue to block any meaningful legislation that has been proposed by President Trump, or the Republican Congress. Democrats and their radically left allies believe that it gives them ammunition to claim the President has failed to move forward on immigration. Besides, Democrats, even when they controlled the house and senate failed to pass any legislation that would fix the border, because they want open borders. They want new fresh voters to come in and hopefully pad their numbers in future elections.
AntiFa then went on to threaten Senator Cruz, President Trump, and Kavanaugh directly, when they said…
"He'd have laughed with his wife while women and members of the LGBTQ community collectively gasp in horror as Senator Cruz pushes forward on Bret Kavanaugh's Supreme Court nomination. At least he could have had activists not interrupted his evening just as he was being seated. Instead, activists from Smash Racism DC, Resist This, DC IWW, members of DC Democratic Socialists of America, Anarchists, women, sexual assault survivors, and members of the LGBTQ community interrupted Ted Cruz's peaceful meal. This is a message to Ted Cruz, Bret [sic] Kavanaugh, Donald Trump and the rest of the racist, sexist, transphobic, and homophobic right-wing scum: You are not safe. We will find you. We will expose you. We will take from you the peace you have taken from so many others."
Smash Racism DC

@SmashRacismDC

p5. While our interruption does not compare in scale to the interruptions his actions as a Senator have had on millions of American lives, we hope that it reminds Cruz and others like him that they are not safe from the people they have hurt.
AntiFa had the audacity to sign off on the tweets with
"Sincerely, Some Anti Fascist Hooligans"

Smash Racism DC, AntiFa
In the end, AntiFa can try to act like they are the protectors of justice, and a fighter for the people. However, they are nothing more than a bunch of hoodlums, only with a purpose.
AntiFa is the militant wing of the progressive left, and they are a descendant organization of the Soviet Union's operation to bring about a communist dictatorship in Germany. They worked to label all rival parties as "fascist." Their goal was to unite left-wing and progressive groups and organizations, in order to incite revolution, with the ultimate goal of replacing one governmental system with a communist style government replacement. In fact, the Soviet Union (modern-day Russia), created a slogan called "To The Masses", and used it to unite all progressive left-wing groups as one massive and ruthless organization. They claimed to fight for equality, and for the people, as they claimed to fight against racism, and fascism.
Then in 1914, Benito Mussolini was expelled from Italy's Socialist Party, because he supported World War I. Mussolini was a devout marxist, and came to found an offshoot of communism called fascism. He took power during his 'March on Rome' in 1922, and a few years later Adolf Hitler became the leader of the National Socialist German Workers' Party (Nazi Party) in 1921. Fascism was a term that was meant to serve as rhetoric for their aggression and opposition to the governmental systems that preceded their reign.
Interestingly, fascism and communism are based on collectivism and state-planned economies, and created a system where the individual was heavily controlled by a powerful state. Sadly, both socialist systems communism and fascism led to some of the largest extermination of human lives and atrocities in the history of mankind.
AntiFa, Progressives or "left-wing extremist," use the label of "fascism", not in reference to actual fascism, but instead "capitalism" or capitalists! Therefore, as you hear AntiFa and Progressives declare that they are fighting racism, and fascism, it acually is simply another 'left wing ideological term' for their "fight against the capitalists and the capitalist system", as they strive to replace it with communism and subjugation. Therefore to AntiFa and Progressive-Socialists…
"Anti-Fascism" = "Anti-Capitalism"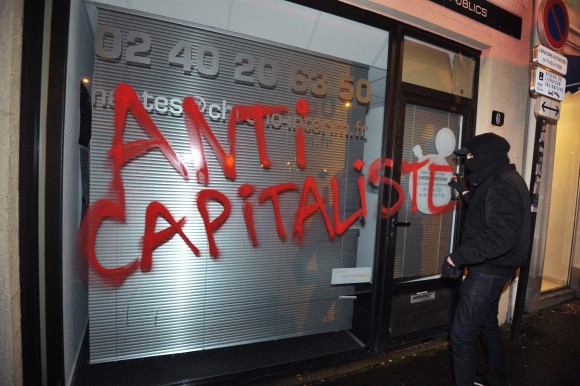 A description of Antifa on the BfV website notes that the organization still holds this same basic definition of capitalism as being "fascism." Now, as Progressives and their AntiFa militant wing seek to destroy Americas capitalist system, and replace it with a communism system. Sadly, America has been at war for decades, with communist forces who seek to upend and destroy our nations constitutional republic, our bill of rights, and all the freedoms and financial successes that it has bestowed upon the American people. Unfortunately, until now American's just didn't realize it, because those who have sought to destroy the fabric of our nation, have done so under the guise of progress, equality, women's rights,  minority rights, and other means that were designed to pit American against American. They have created rifts between the so-called rich (middle class) and poor, the old and the young, women against men, muslims against christians, blacks against whites, Hispanics against non-Hispanics, working class against the unemployed, and the list could go on and on. They have demonized conservatives, regardless of the fact that those very conservatives have fought for the rights of blacks, women, hispanics, the religious, and the Constitution of the United States.
Therefore, now is the time for Americans to stand up to the bigotry. It is time for Americans to stand up to real hate and racism! Hate and rasict actions like AntiFa's attack on Senator Ted Cruz. It is time for 'We the People' to fight for our right to exist as a nation who defends not only the poor, but every mans right to fight for the American dream. We must fight against the democrats lies and distortions by standing up for womens rights, not by simply defending abortion, but by defending their right to choose life. Not by forcing women to work, but by giving them the choice to choose a job or to stay home and raise a family. Not by telling women that they have to support the democrat party, but by giving them the choice to support candidates who fight for family values, stand up for morals, and defend God. We must fight against the democrats lie that they stand up for Christian values, as they call for the eradication of any semblance of Christianity in Gods institutions, buildings, and education. Meanwhile, they call for the implementation of atheism in the science curriculum, and defend by saying it is not religion. Still they fail to call it what it truly is…anti-Religion. Finally, it is time for Americans to fight back against the hate-filled, racist, anti-American party that the democrats have become, and the only way to accomplish this is through the ballot box. Fight back against the 'fake news' mainstream media propaganda machine by truly educating yourselves and spreading real news through email, social media, and word of mouth. Fight back by working to help candidates who stand up for what is politically and morally right for our nation. Fight back by educating our children, and teaching them to stay politically educated, rather than simply trusting what the mainstream media or politicians say and want us to hear. Yes, America has reached a precipice, and we must make a decision to either put forth the effort to save our great nation from those who seek to undermine it, or not only will our generation suffer the repercussions of the socialist and communist bondage, which leads to desperation and suffering, but our lack of will would ultimately lead to our children, grandchildren, great-grandchildren, and the multitudes of generations that follow will suffer the same horrid fate.
UPDATE: Although Twitter indicated has indicated via email to Breitbart that the "Smash Racism DC" tweet is "violating our rules against abusive behavior," but the tweet remains live on the platform, and have failed to remove their postings.